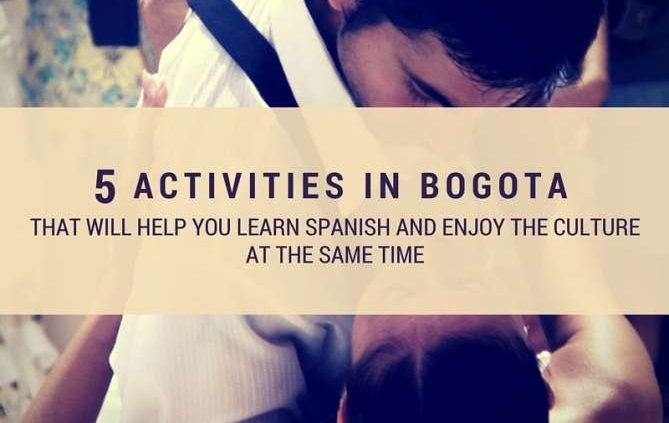 Bogota has plenty of possibilities to get great cultural enrichment. Every day there are 35 to 45 cultural public and private events along with the city, from street theater, concerts, and workshops to art expositions and free exchanges events at cafes and bars.
Here you will find a list of the activities that will help you learn Spanish and enjoy the culture at the same time.
1. Free Dance Lessons:
You can enjoy salsa, tango and milonga free lessons every Sunday morning at Centro Cultural Gabriel García Márquez, in La Candelaria, in the centre of the city.
More info: Fondo de Cultura Económica
2. Language exchange and international party:
Gringo Tuesdays at bar La Villa, in Chicó, in the north of the city, is a language exchange and international party event that takes places every Tuesday from 5 pm to 3 am. This is an excellent opportunity to meet local and foreign people, to practice Spanish and to share experiences.
More info: GringoTuesdays
3.Party nights on a Chiva:
If you want to know how "bogotanos rumbean", you also can enjoy party nights on a "Chiva rumbera", a traditional bus with no windows, no chairs that is exclusively designed to go dancing and drinking meanwhile you go all over the city. The Chiva finally arrives to La Calera, a natural and touristic zone at northeast of the city with spectacular sightseeing and rumba zones.
4. Bike Tours:
Enjoy the Ciclopaseos through La Candelaria and other traditional zones. In those you rent a bicycle and with a guide, run through key points and places to know the traditional Bogota centre. If you prefer, every week there are also possibilities to run the centre on foot with a guide visit. Besides, every weekend there are outside walks, in which you can know natural runs and places in Bogota hills and some zones around Bogotá.
Amateur photographers meetings:
On the other hand, at Parque Nacional, near the centre and the Planetario, there are amateur photographers meetings at weekends, in which you not also meet new local people but enjoy routes designed to photograph special zones in the city as parks, graffiti and heritage zones, traditional neighbourhoods and buildings, among others. Off course, you could get good memories and images of all over the city.
These are just a few of many different options that are now available to enrich the learning experiences of Spanish language and cultural involvement in Bogotá. These offers get visitors interact with locals to improve their speaking and listening skills, and off course, to enrich cultural and local lifestyle knowledge at the time they provide practice with vocabulary that is inherently more applicable to your interests.
https://learnmorethanspanish.com/wp-content/uploads/2015/10/5_activities_in_bogota_that_will_help_you_learn_spanish_2.jpg
669
669
Learn More Than Spanish
https://learnmorethanspanish.com/wp-content/uploads/2018/11/spanish-school-colombia-logo.png
Learn More Than Spanish
2015-10-06 18:46:38
2019-08-27 17:52:11
5 activities in Bogota that will help you learn Spanish and enjoy the culture at the same time