Colombia in a bite: 25 Unique Colombian food
Colombia's diversity is clearly reflected in our unique and rich gastronomy.
This beautiful tropical paradise will not only mesmerize you with its beautiful landscapes and charming people but also with its food!
Once you come to Colombia and try our food, you will fall in love (even more)
As the saying goes:
"El amor entra por el estómago"
"The way to a person's heart is through their stomach"
What kind of food will you find in Colombia? It sounds like a cliché, but you will find everything! … ¡Really!
Being Colombia the second most diverse country on the planet, with a unique blend of cultures, it shouldn't surprise that our cuisine and gastronomy has such rich flavors and explosive fusions.
For example, there are more than 400 varieties of fruits in Colombia, meaning that you could have a different fruit every day. More than 800 kinds of potatoes, out of the 4,000 registered and known in the world, and 75 different preparations of Arepas.
Let's explore these unique Colombian flavors!
Fruits & Desserts
1. Mango Biche
If you think mango should be eaten only when it is ripe, juicy, and sweet, let us tell you that you are missing out on how delicious unripe mango is.
"Mango biche" is essentially just unripe mango. It's naturally green and doused with salt, pepper, and lime—one of the most popular Colombian street foods.
Photo credit: Pinterest
2. Cholado
​​​​Forget about a classic fruit salad. "Cholado" is an exotic fruit salad taken to another level. Delicious, sweet, and refreshing!
From the Valle del Cauca region, "Cholado" is prepared on a base of shaved ice, tropical fruits, different flavored syrups, and condensed milk. It includes bananas, green apples, strawberries, passionfruit, grapes, papaya, and pineapple.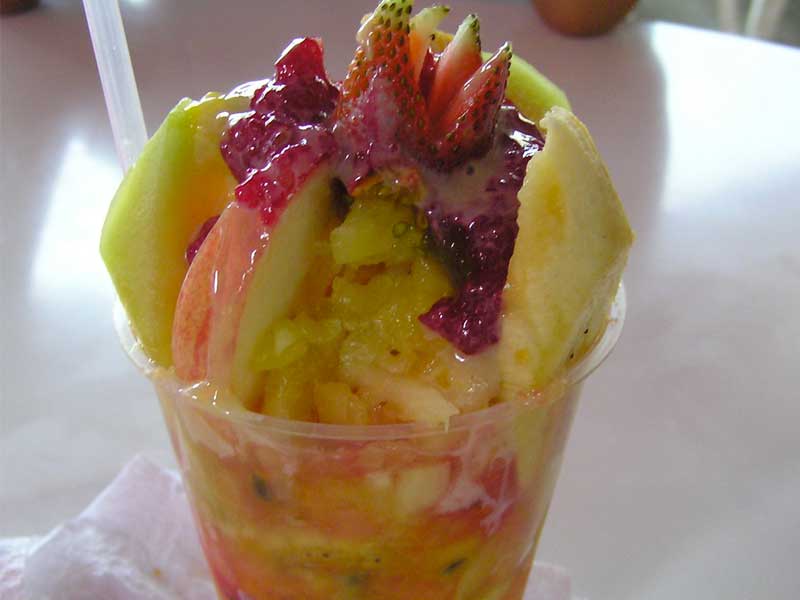 Photo credit: Wikipedia
3. Lulada
"Lulo" is a unique Colombian fruit. It only grows in Colombia and Ecuador.
"Lulada", a "lulo" drink. Unlike "lulo" juice, the fruit is not blended but triturated manually and mixed with condensed milk, crushed ice cubes, and lime juice.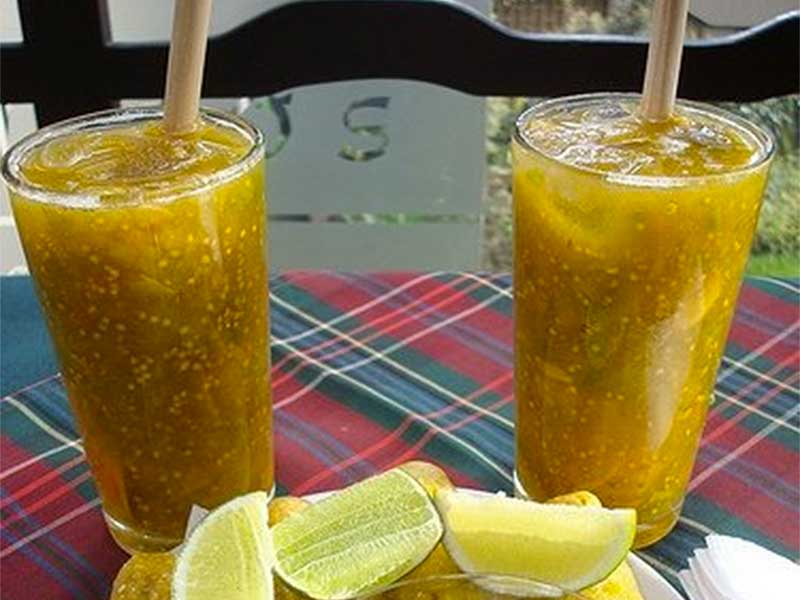 Photo credit: Wikipedia
4. Obleas
"Oblea" is a thin sandwich-like dessert made with two round, extra-thin wafers filled with various ingredients.
The original "oblea" comes with "arequipe," but they also can include blackberry jam, milk cream, condensed milk, coconut, fruit syrups, chocolate sprinkles, and cheese (of course, in Colombia, everything comes with cheese!)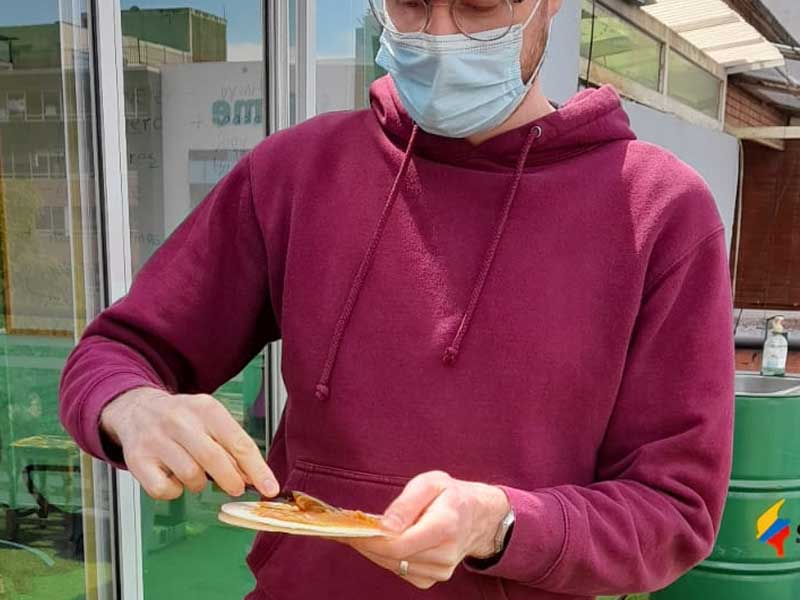 5. Cocadas
"Cocadas" is the most popular dessert in Colombia's coastal region. The base is grated coconut combined with melted sugar.
"Cocadas" are usually sold on the street and at the beach by people carrying them in a big pot over their heads.
Photo credit: Pinterest
Bread and all-day snacks
6. Arepa
The arepa is an iconic food in Colombia. It's a delicious circular bread made from fresh cornmeal with more than 75 distinct preparation forms.
Toppings can range from simply butter and cheese to heaping piles of meat and vegetables, so they're as versatile as they are delicious.
All arepas are unique and delicious. Each region has its kind and type of preparation. Apart from the plain traditional ones, these are some of the most popular:
Arepa de Huevo (Fried Egg Arepa)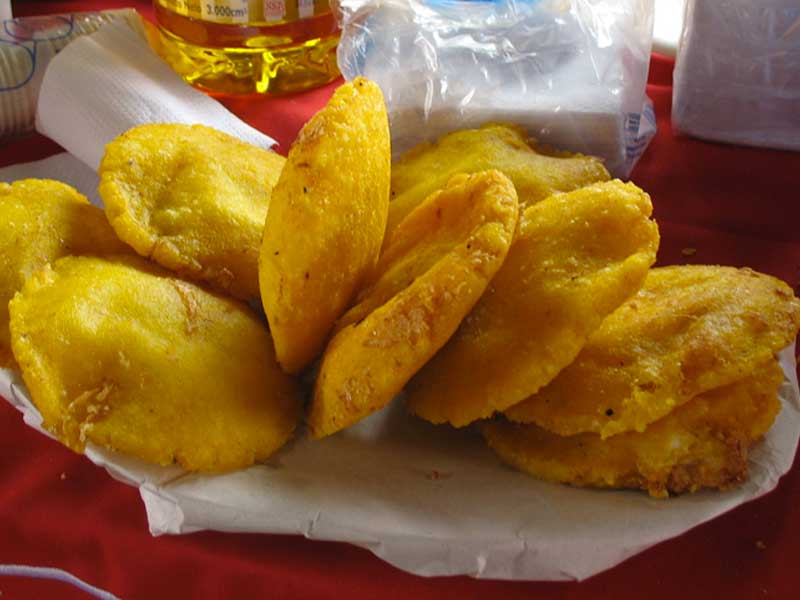 Photo credit: Wikipedia
Arepa de Chocolo (Sweet Corn Arepa)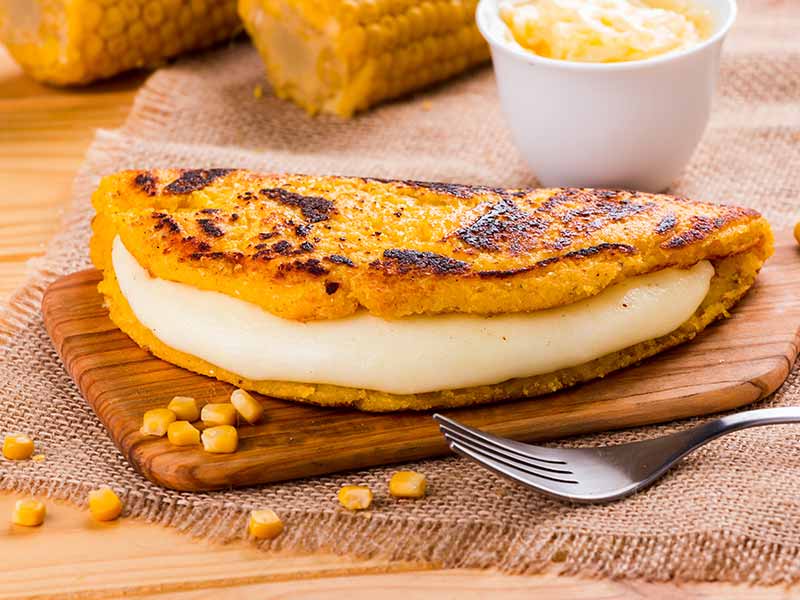 7. Pandebono
Pandebono is a kind of bread made of cassava starch, cheese, eggs, and, sometimes, guava jam.
It is a traditional food of Valle del Cauca, but it is eaten everywhere.
It's eaten for breakfast or as a snack, usually with hot chocolate, and still warm a few minutes after baking.
So yum!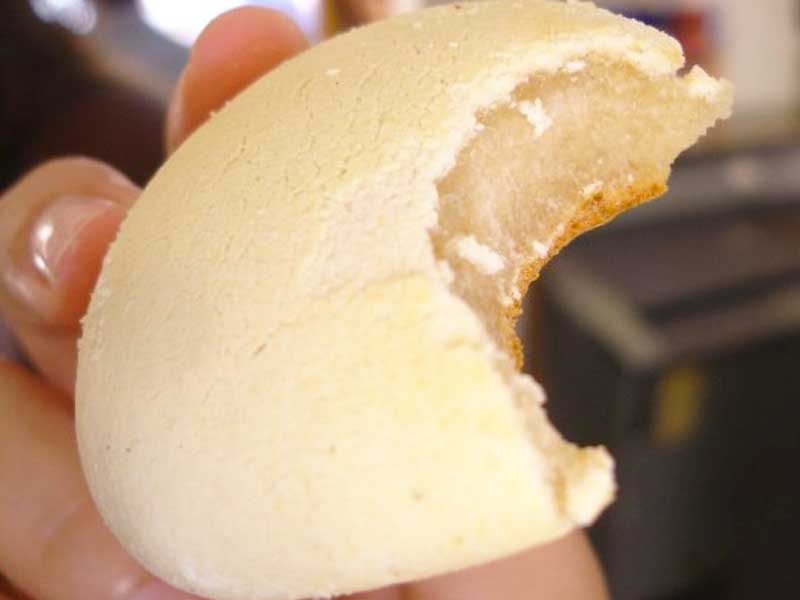 Photo credit: Wikipedia
8. Pan de Yuca
Like "pandebono," "pan de yuca" is a kind of bread made of cassava starch and cheese.
Its texture is spongy and crunchy. It's eaten for breakfast or as a snack, usually with hot chocolate, and still warm a few minutes after baking.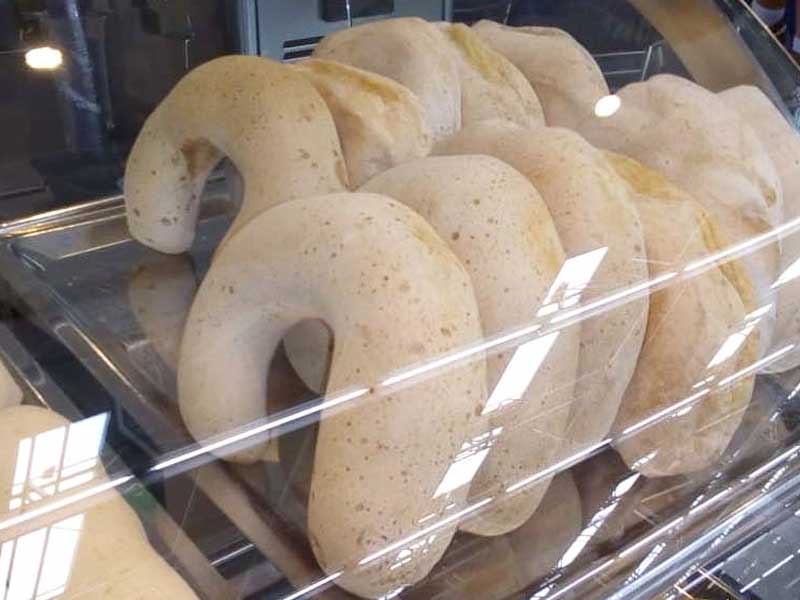 Photo credit: Wikipedia
9. Almojábana
An "almojábana" is a small, bun-shaped bread made from rich cheesy dough.
Known in English as Colombian cheese buns.
Like "pandebono" or "pan de yuca," "almojábana" are eaten for breakfast or as a snack, usually with hot chocolate and warm a few minutes after baking.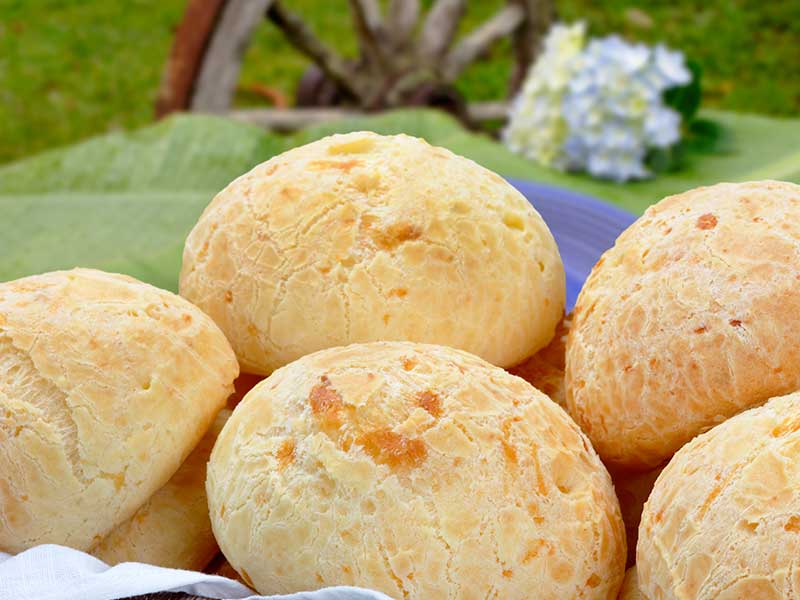 10. Buñuelos
Another popular fried street food!
Buñuelos are fried dough balls that are somehow simultaneously sweet and savory.
They are unmissable during the December holiday season; one of the most popular Christmas snacks are Natilla y Bueñuelos (Custard and Fried Dough)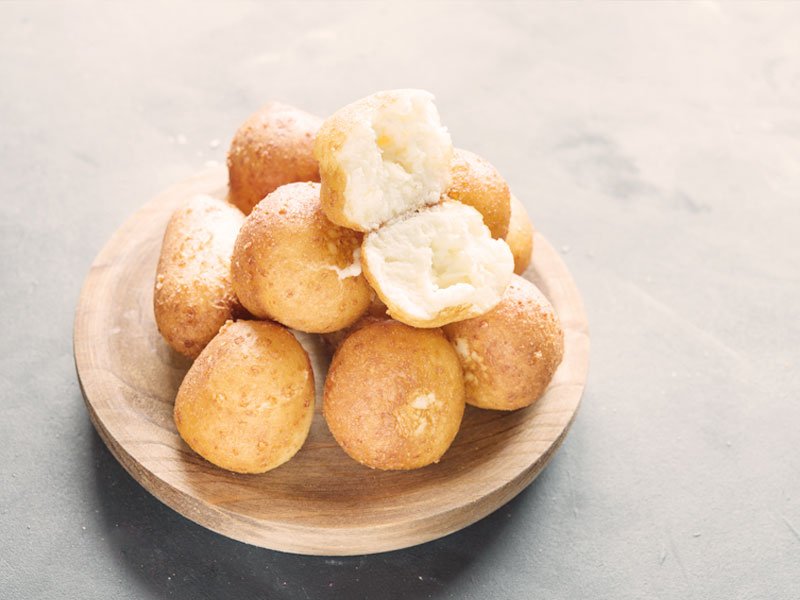 11. Aborrajado
"Aborrajados" are stuffed plantain fritters, typical food from Valle del Cauca.
It is a mix of sweet and savory flavors made with ripe plantains filled with cheese and guava jam.
Trying "aborrajados" is a one-way ticket! A flavor bomb that you won't find anywhere else.
Photo credit: Pinterest
12. Carimañola
"Carimañola" is a deep-fried yucca fritter stuffed with cheese or meat fillings. It's originally from the Caribbean coastal region of Colombia.
The Carimañola is usually served with a fermented milk-based condiment known as "Suero Costeño."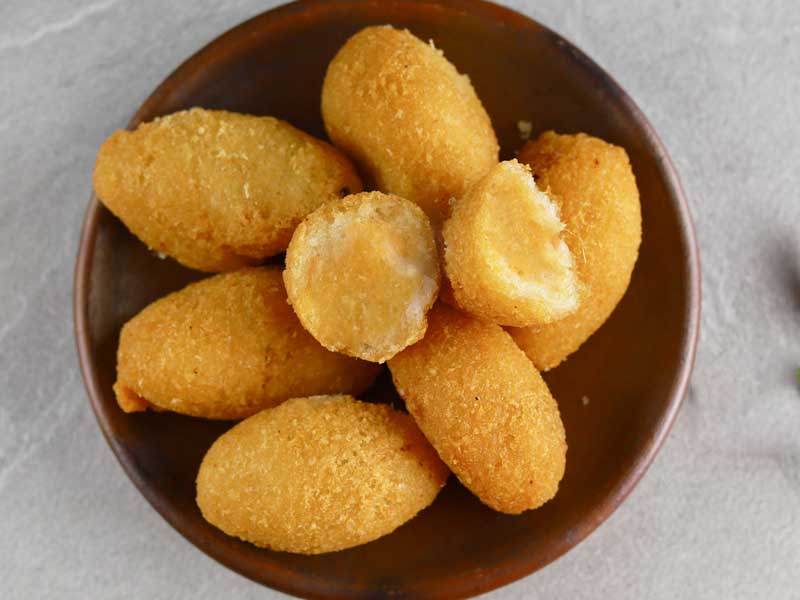 13. Empanadas
There are different kinds of empanadas in Latin America. Colombia's are fried, of course!
You will find empanadas in almost every neighborhood. They are eaten as a quick breakfast or late-night snack.
Depending on where you are in Colombia, you can find empanadas filled with chorizo, beef, chicken, or cheese.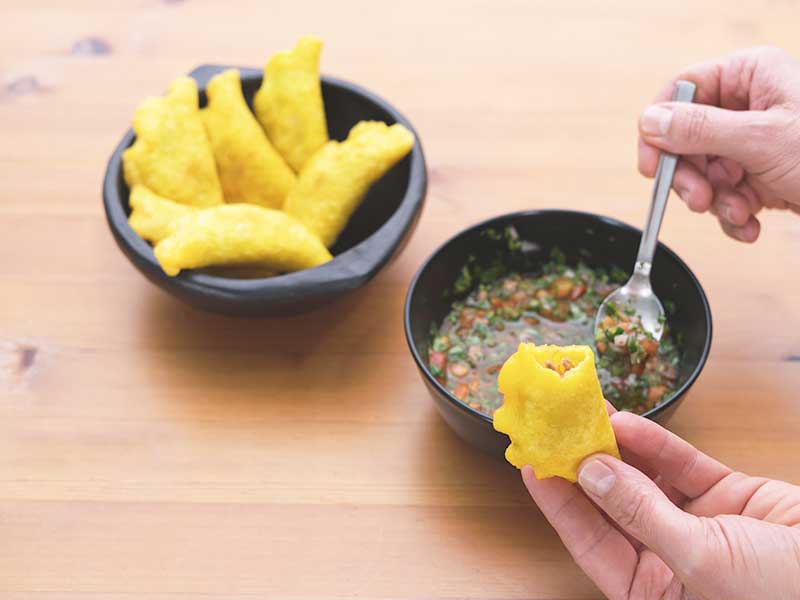 14. Morcilla (Blood Sausage)
"Morcilla" is a sausage of cooked blood, generally cow's, mixed with pork fat and other ingredients to bulk it out, such as rice.
It's usually part of the "picada", "bandeja paisa" and other traditional dishes.
Photo credit: Facebook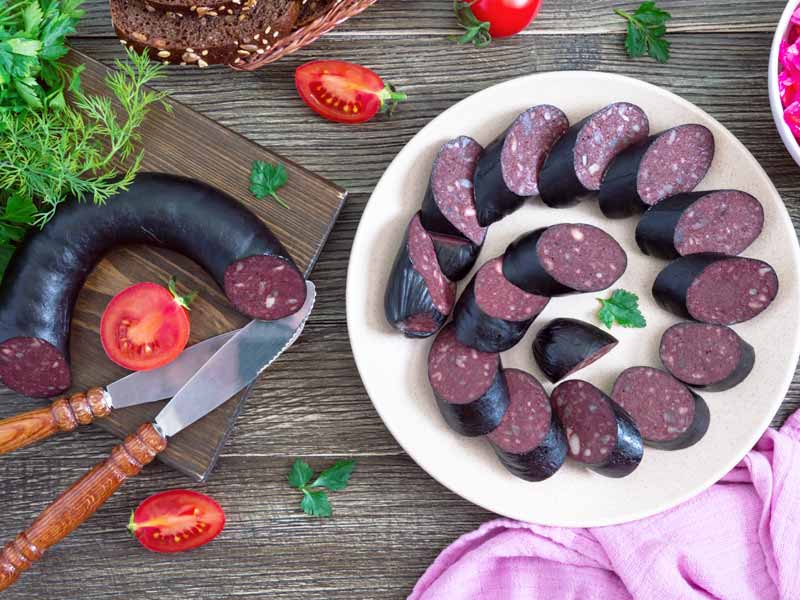 15. Papitas Criollas (Andean Potatos)
"Papa criolla" is a yellow and small potato very popular in Colombia.
We use them in soups and stews, mashed, boiled, baked or fried.
They are delicious!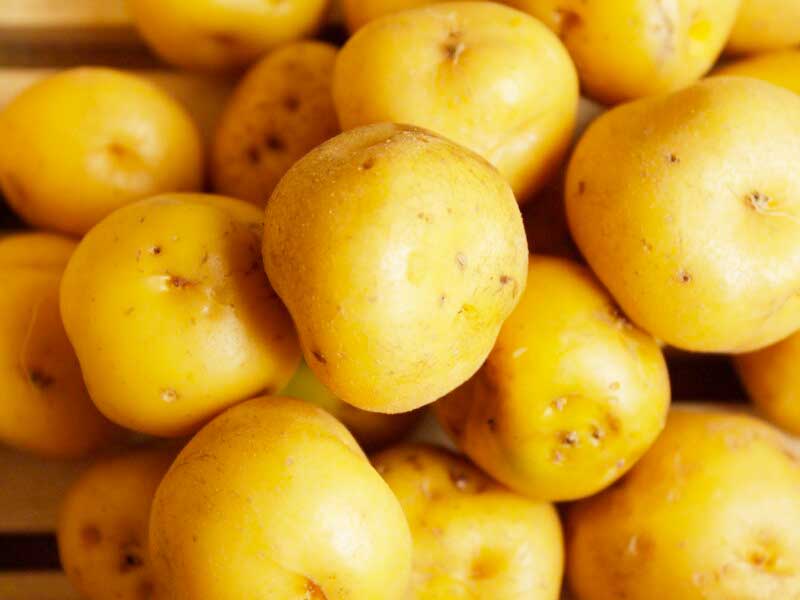 Soups and Stews
16. Mote de Queso (Cheese Soup)
What, cheese in soup? Yes, we have mentioned that cheese is an essential part of the Colombian daily diet, and it comes in all kinds of dishes.
Mote de Queso is a soup originally from the Caribbean coast. It is made with yam, hard cheese, onion, garlic, and "suero costeño". It is eaten on its own, accompanied by a banana or arepa.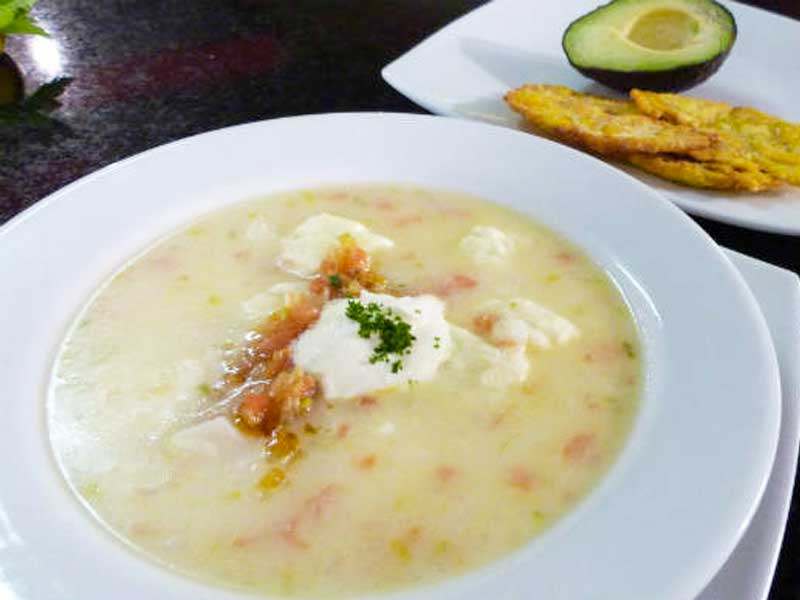 Photo credit: Wikimedia
17. Ajiaco
"Ajiaco" is an iconic Colombian stew and Bogota's traditional dish.
It's rich in texture and ingredients. It includes chicken, two or three types of potatoes, corn, capers, and sour cream.
It's served with white rice and avocado.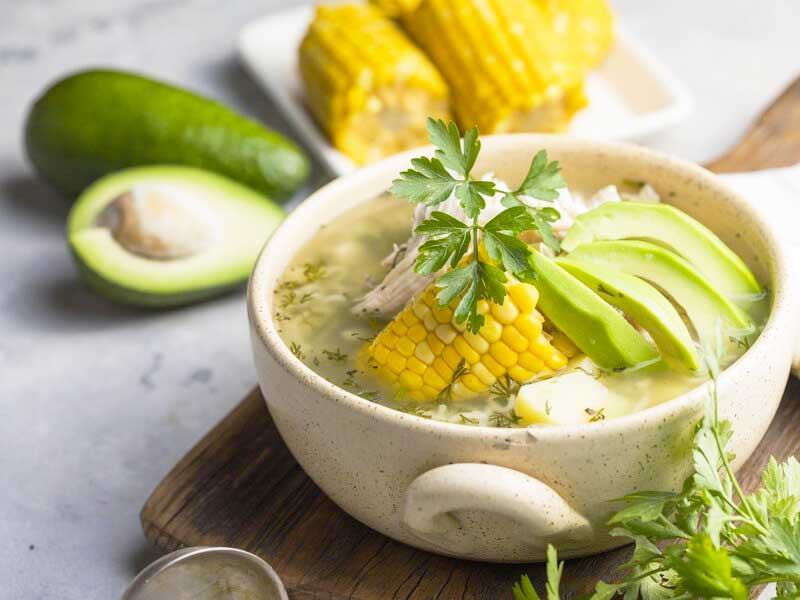 18. Sancocho
Colombian "sancocho" includes a bit of everything, no joking!
It includes a few different kinds of meat, plantains, potatoes, corn, and yucca. It's served with white rice and avocado.
"Sancocho" is an integral part of Colombian culture. Families gather over the weekends and during the holiday season for a sancocho. It could be compared to the kind of family backyard barbecue in other countries.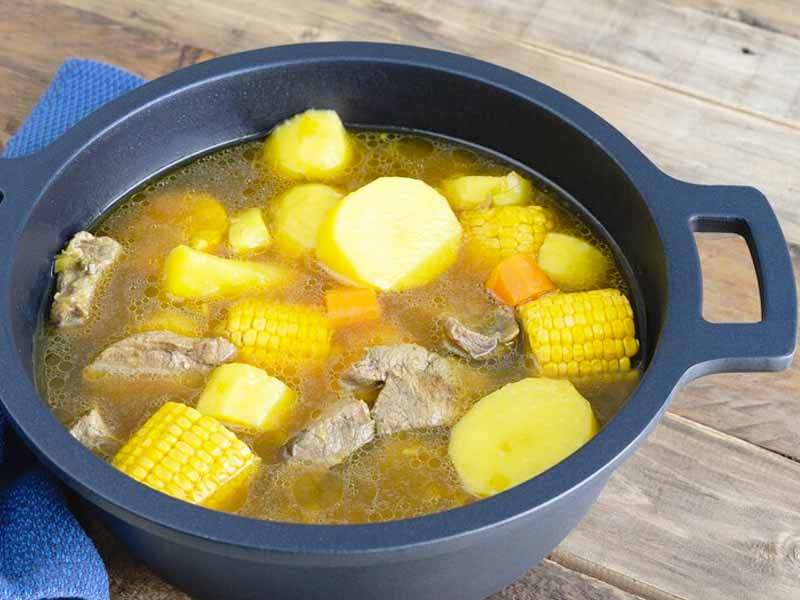 19. Mondongo
"Mondongo" is a signature dish in the Andean regions of Colombia. It is prepared with beef belly, soft pork cut into small pieces, and various vegetables and greens. It's all cooked for a long time and accompanied with rice and avocado.
This soup and other variations are also found in Caribbean countries, the Philippines, and other Spanish colonies.
Photo credit: Pinterest
20. Changua
"Changua" is a typical breakfast broth from the central Andes region, particularly in Boyacá and Cundinamarca, including Bogota.
This milk-based soup is made with water, milk, egg, onions and cilantro and is often served with bread and hot chocolate.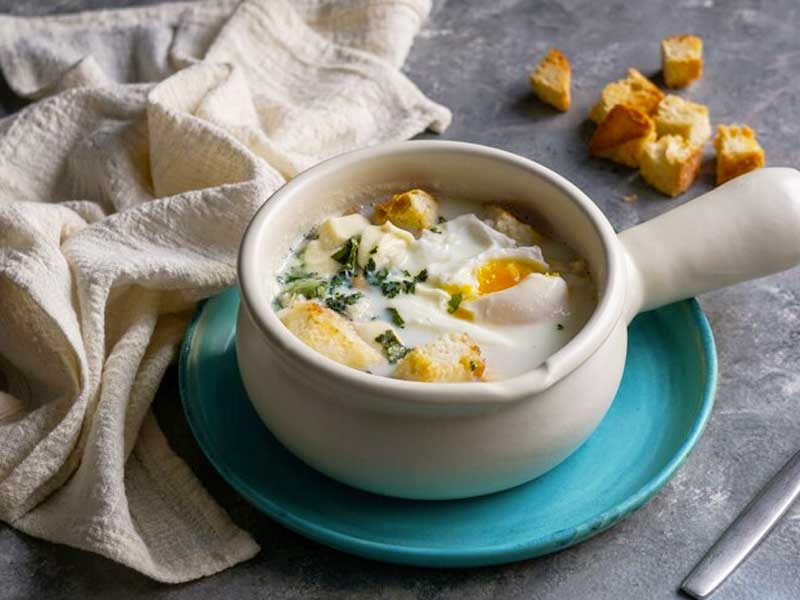 21. Cazuela de Mariscos
"Cazuela de mariscos" (seafood stew casserole) is a popular seafood stew from the Caribbean region, considered to be an aphrodisiac.
It's a thick, hearty soup that includes lobster, shrimp, white fish, and vegetables, all cooked in a broth of creamy coconut milk.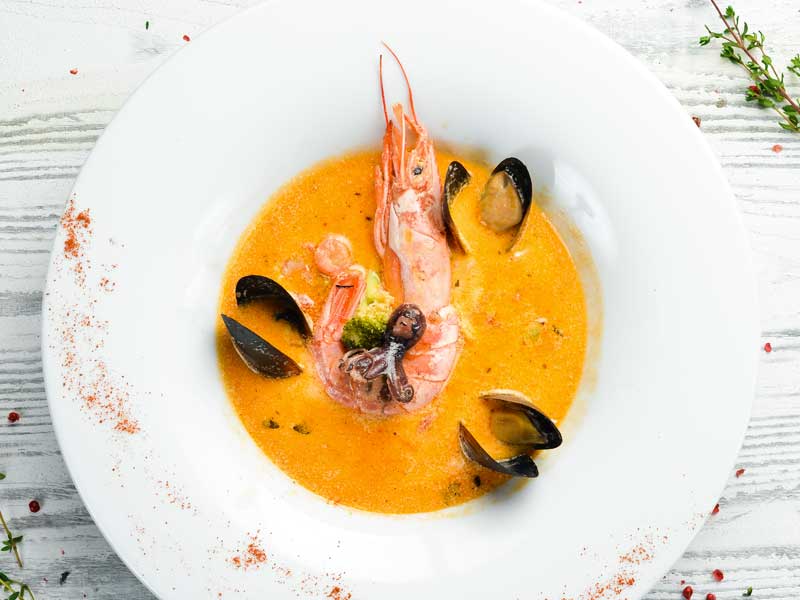 Other Typical Dishes
22. Tamal
"Tamales" have a pre-Hispanic origin. They are usually prepared in large quantities, given the number of ingredients and cooking time required.
It is eaten for breakfast, lunch, and on special occasions such as Christmas or birthdays.
It is always wrapped in a banana leaf.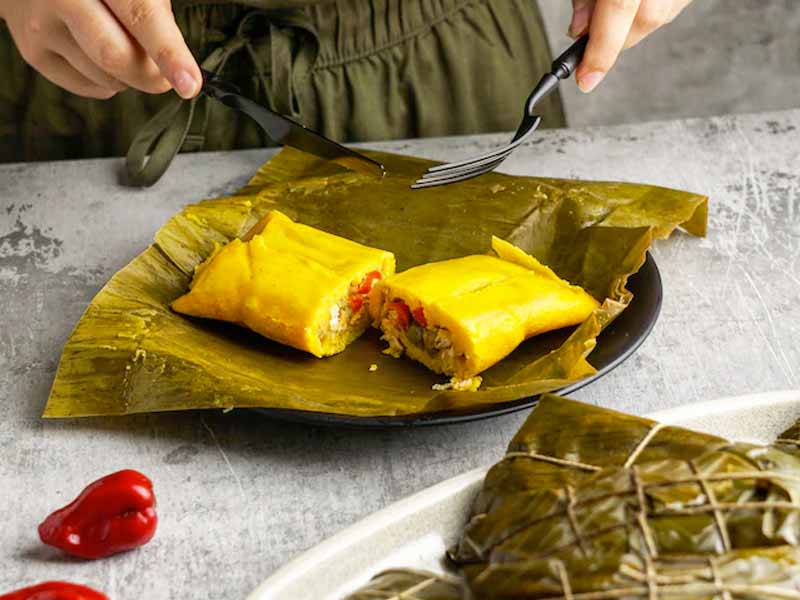 23. Bandeja Paisa
Colombia's national dish, without a doubt.
The "bandeja paisa" is a feast in one dish. You'll typically find steak, ground beef, chicharrones, rice, beans, egg, avocado, arepa, and plantains, all on one plate.
You better have a good appetite before ordering a "bandeja paisa!"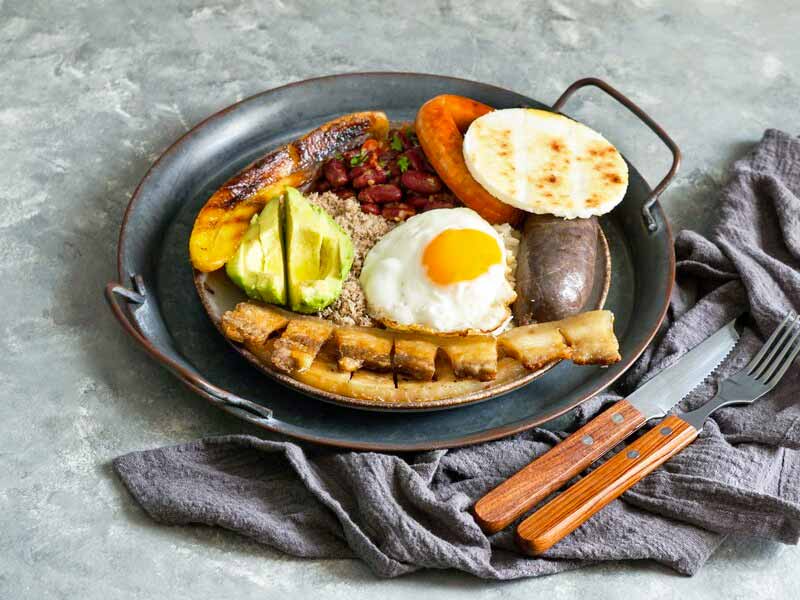 24. Picada or Fritanga (Fried Tray)
The Colombian "picada", also known as "fritanga", is a mix plate of pork and other types of meat, chicharron, colombian sausage, morcilla (blood sausage), Colombian potatoes or "papitas criollas," plantain banana, arepa, corn, cassava, and guacamole.
It's all fried! The reason why people refer to it as "The Palace of Cholesterol."
Photo credit: Pinterest
25. Lechona (Stuffed Pork)
Traditionally from the Tolima region, "lechona" is another staple in Colombian cuisine. It's an entire roasted pig (face and all!), tossed in a clay oven for up to 12 hours and stuffed with rice, onions, peas, and spices.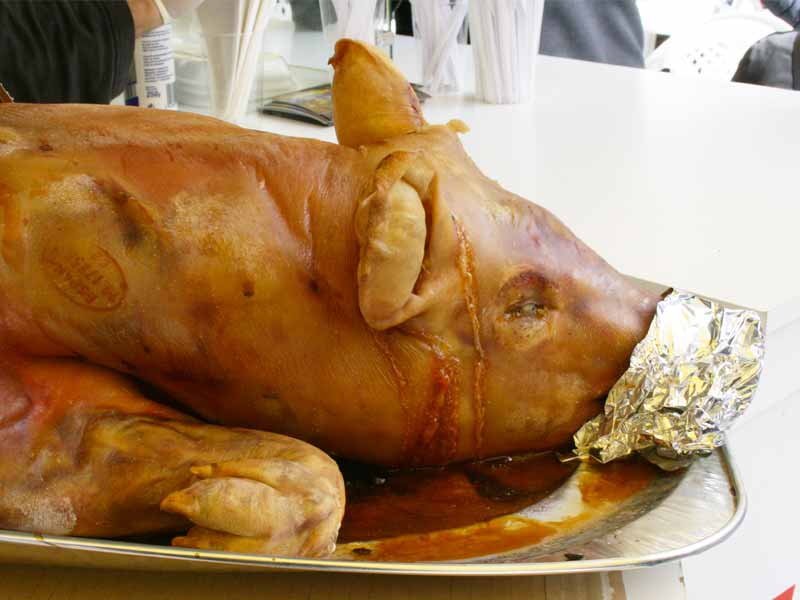 Photo credit: Wikimedia
We hope you have enjoyed this article as much as we enjoyed writing it! Go get a snack, we bet you are hungry after reading about these Colombian delicacies!
If you want to improve your Spanish and know more about Colombian culture, drop us a line!
We will be happy to tailor a specific program for you!
And, don't forget to follow our social media and read our blog to learn more than Spanish
We hope to see you in Colombia soon!

https://learnmorethanspanish.com/wp-content/uploads/2022/02/unique-colombian-food-tamales.jpg
600
800
Jennifer Gonzalez
https://learnmorethanspanish.com/wp-content/uploads/2018/11/spanish-school-colombia-logo.png
Jennifer Gonzalez
2022-02-06 20:19:22
2022-02-08 20:40:46
Colombia in a bite: 25 Unique Colombian food