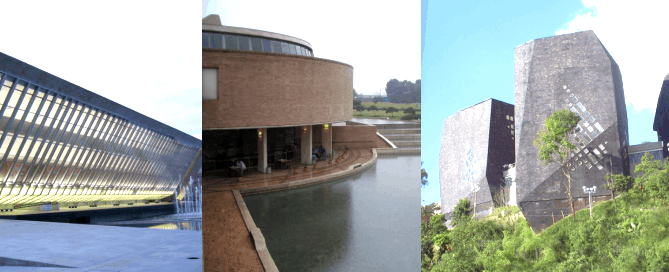 Learn Spanish in Colombia while visiting spectacular landmarks. Here you will find four of the most interesting library designs in Colombia. Enjoy and please let us know what you think!
Virgilio Barco Library in Bogotá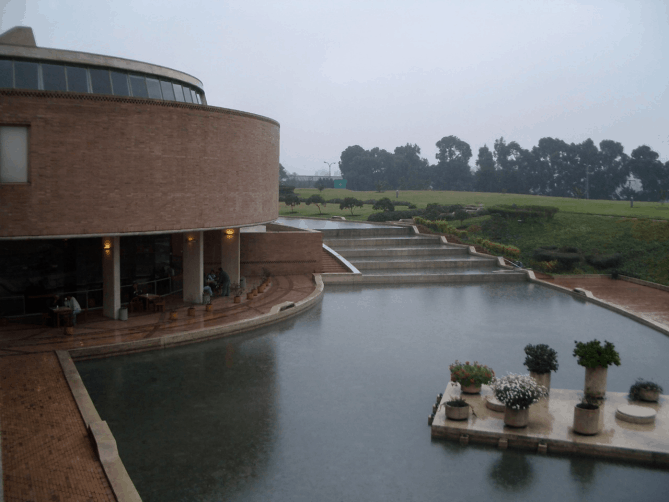 Matt Lemmon, CC BY-SA 2.0, via Wikimedia Commons
The Virgilio Barco Library building, being one of the four largest libraries of the BIBLORED network in Bogotá, it's a cultural and recreational staple of the country that has become a reference of contemporary public spaces.
The building, designed by Rogelio Salmona (1929-2007), considered the most important Colombian architect of the 20th century, stands out due to its creative design, a maze of colors featuring red brick walls and exterior space that makes it, according to its creator, a kind of "ceremonial center"
The inside is as especial and calm as the outside, depicting a colorful labyrinth of books in an area of nearly 7.000 m2
Villanueva Public Library in Casanare
Designed by four young Colombian architects, the Villanueva Public Library in Casanare it's a 3000 square meters building.
The library is notable for its simple and amazing architecture and for the use of locally sourced materials, including timber and stones from rivers and the help of the locals.
For more information and photos, please visit: De Zeen Magazine
Parque Biblioteca España, in Medellín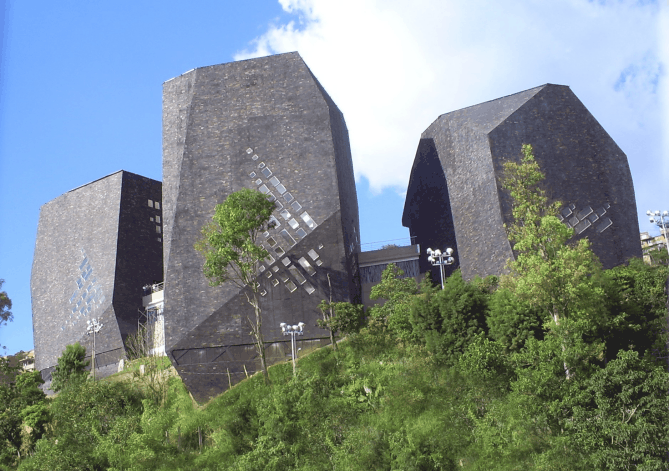 Photo Attribution: By SajoR (Own work) [CC-BY-SA-2.5], via Wikimedia Commons
Designed by architect Giancarlo Mazzanti, the Parque Biblioteca España is noted for its striking modernist design.
Three buildings that resemble black stones, in contrast to the homes in the neighborhood. The library is located at the top of one of the peaks of Medellín and it's an ideal sightseeing point of the city.
EPM Library, Medellin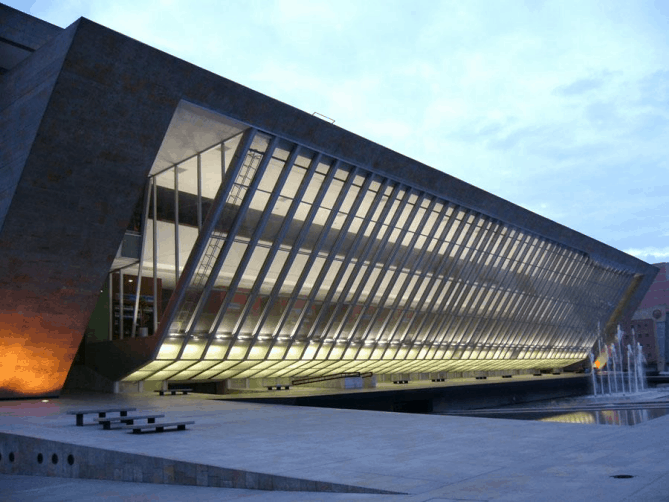 Photo Attribution: By Jorge Gómez (Foto tomada por mí) [GFDL, CC-BY-SA-3.0, GFDL or CC-BY-SA-3.0], via Wikimedia Commons
Designed like an upside-down pyramid, the EPM Library in Medellin is an iconic building not only for its walls of glass and natural stones and its 107,000 square foot beautiful interior but for the forest of white columns located just outside: "La plaza de Cisneros".
Each column of the Plaza has seven reflectors illuminated by 170-floor lamps. The lighting system simulates phases of the moon.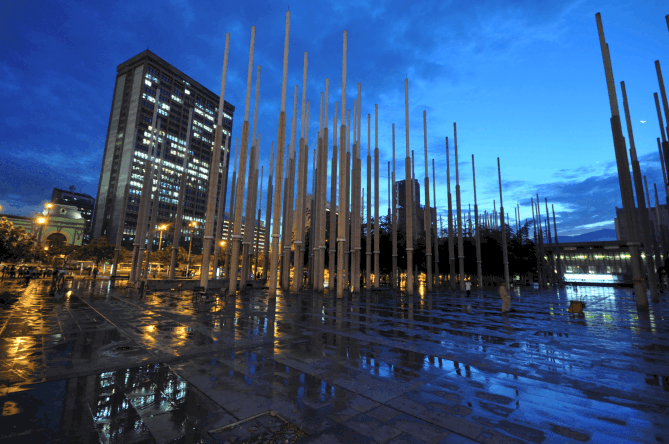 Photo Attribution: By https://www.flickr.com/people/jlascar/ Jorge Láscar (Own work, I took the picture) [CC-BY-SA-3.0 or GFDL], via Wikimedia Commons
https://learnmorethanspanish.com/wp-content/uploads/2014/03/libraries-colombia.png
272
669
Learn More Than Spanish
https://learnmorethanspanish.com/wp-content/uploads/2018/11/spanish-school-colombia-logo.png
Learn More Than Spanish
2014-03-11 18:43:23
2021-06-10 12:46:39
Modern architecture and Spanish Language: 4 fabulous libraries in Colombia