Bogota: Cultural diversity in just one place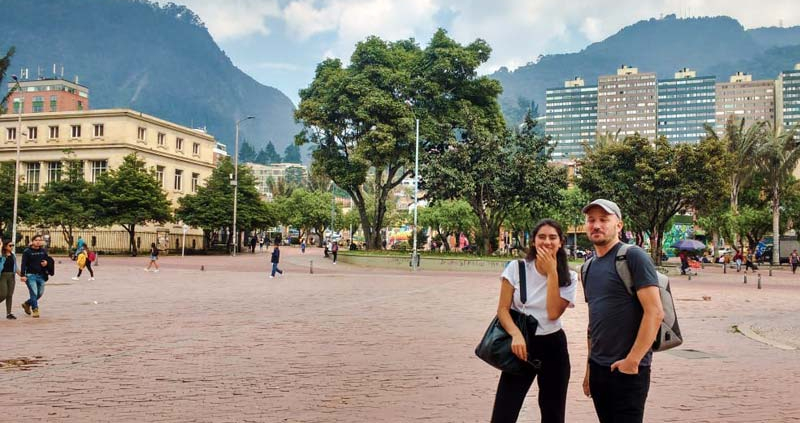 We have talked about Colombia's diversity in the past.
About its food, people, and music.
And we know, it is precisely our rich cultural diversity one of the reasons people decide to visit Colombia and to learn Spanish.
Colombia is a big country. There is so much to see and so much to do!
If you want to explore and experience deeply our cultural richness you would need to visit all five regions. The Caribbean coast, the Pacific coast, the Andes Mountain Range, the Grassland Plains, and the Amazon Rainforest.
Which requires quite some time…
Luckily, you can visit and live in Bogota. The city where you can get a full immersion into Colombian culture.
Where is Bogota?
Bogota is the capital of and the largest city in Colombia. It is also the third-largest city in South America after São Paulo (Brazil) and Lima (Peru).
With its many universities and libraries, Bogota is known as the "Athens of South America".
It is the political and cultural centre of the country. It is a place of convergence for people from all over the country and from all over the world.
Every year people move to the capital city to either study or to work. Therefore a good part of its population is not local, and as a result, it is very diverse and multicultural.
Bogota is the country's beating heart. It is said that it is the melting pot of Colombia.
Here all cultures have a place.
What is Bogota known for?
Bogota brings together the best of the country; its music, its food, its art, its people. The cultural offer is infinite.
There is a broad array of local and international restaurants. There are many parks with concert facilities, and beautiful mountains surrounding the city where you can do day-hikes.
For art lovers, there are around 58 museums and over 70 art galleries.
There are also events such as ArtBo (International Fair of Art of Bogotá), La Feria del Millón (Art festival for both up-and-coming artists and first-time art buyers) and Barcú (International Fair of Arts and Culture).
In Bogota, you can find sounds and vibes from the Caribbean at festivals like Colombia al Parque or night clubs like La Negra. And, the flavours of the Pacific and Amazonia region in restaurants like Petronio or Mini-mal.
You can also find the Colombian best coffees. There are places where you can do coffee tasting, or book stores where you can sit and enjoy a reading afternoon such as Wilborada 1047.
Bogota, cultural heritage
In addition, Bogota was named the UNESCO City of Music in recognition of its rich musical heritage and the innumerable festivals held throughout the year.
Read also our post about Colombian music "10 Colombian music genres you need to know about!".
In Bogota, you will be 2.600 meters "closer to the stars".
Yes, it is one of the highest capitals in the world, located 2.600 meters above sea level (8.612 feet).
It is a city that will always exceed your expectations. Check out why:
Cultural diversity in Bogota
Bogota not only attracts people from other regions of Colombia.
It also attracts people from non-Spanish speaking countries who are keen to immerse themselves in the Colombian culture and to learn Spanish.
Rolos, as people from Bogota are known, are reputed to have one of the most neutral and clearest accents in the Spanish-speaking world. They have also an internal reputation for being distant or "cold" -as it usually happens with people from capital cities-. However, you would be surprised by how friendly, polite and open-minded Rolos are.
Tip: In Bogota, many people prefer to use the formal "usted" instead of "tú", even between good friends and family members.

To know more about the differences between Spanish from Colombia and Spanish from Spain read our previous post "Top 5 differences between Spanish from Colombia and Spanish from Spain"
Why learn Spanish in Bogota?
If you want to learn or improve your Spanish before starting your trip around Colombia, there is nothing better than spending some time in Bogota.
Why?
In Bogota you will meet people from Cali, Medellín, Barranquilla, Cartagena, Chocó, Bucaramanga, Pasto and many other Colombian cities.
You will have time to talk to them when buying street food, visiting local fruit markets, or having drinks at one of the city's trendy rooftops.
You will get familiar with the different accents, dialects, and talking speeds. Also, you will learn the most common Colombian slang and expressions.
One thing is for sure, you will never get bored in Bogota! A city full of art, fashion, food, culture, history, music, and unique experiences.
See you there!

https://learnmorethanspanish.com/wp-content/uploads/2020/06/bogota-cultural-diversity.jpg
600
800
Jennifer Gonzalez
https://learnmorethanspanish.com/wp-content/uploads/2018/11/spanish-school-colombia-logo.png
Jennifer Gonzalez
2020-06-29 20:47:49
2020-08-04 21:26:23
Bogota: Cultural diversity in just one place