Why you should visit Bogota in 2021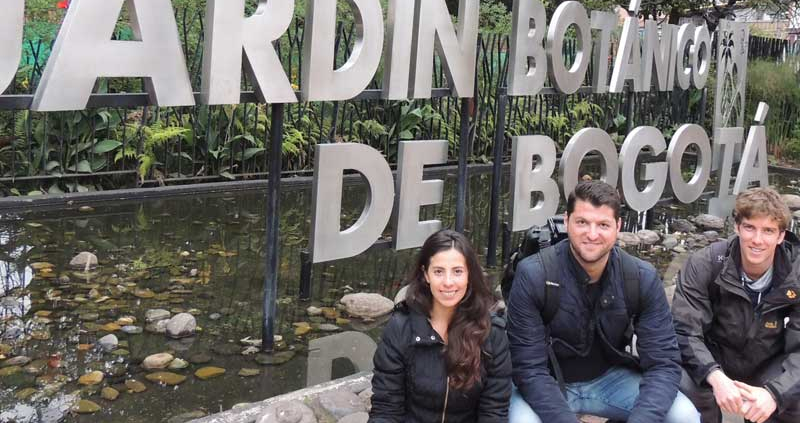 We can't believe 2020 is almost over. Just one month to go, and good-bye 2020!
This has been -arguably- the most stressful and uncertain year of our lifetime. Do you agree?
Thanks to COVID-19, most of the plans we had for this year vanished in the blink of the eye.
If there is one thing that we can learn from this year it is that we need to stop overthinking and live as many adventures as we can, when we can.
And why not start this good resolution by planning your next trip to Colombia, and specifically to Bogota?
In this article, we will give you the best reasons why you should visit Bogota in 2021.
Why should you visit Colombia in 2021?
It's not a secret that Colombia is one of the must-visit countries in Latin America. It has gained tremendous popularity thanks in large part to its astonishing landscapes, its people and its music.
Also, its food and, of course, its globally renowned coffee are the things people fall in love with when visiting the country.
After years of difficulties and severe internal civil war, Colombia has blossomed into a fun and safe destination to travel to. Furthermore, it's one of the most popular countries to learn Spanish thanks to its clear and neutral accent.
Colombia increasingly appears in the world travelers' lists of countries to visit. People dream about Caribbean beaches, Andes mountains ranges and small colonial towns.
Although we suggest visiting as many places as you can if you're planning to visit Colombia, we also suggest you don't skip out on Bogota. The city has so much to offer in terms of cuisine, culture, history, music and art.
Bogota is a city full of surprises. It is described by The New York Times as a "Beautiful, complicated city; an essential place to visit to understand the country".
So, if you want to understand Colombian culture, you should spend some time in Bogota, and you will be greatly surprised by its authenticity.
Why should you visit Bogota?
Bogota is the country's beating heart. It is a modern and cosmopolitan metropolis that has become an epicenter of business, politics, and entertainment.
The city is often overlooked by travelers coming to Colombia; perhaps due to its size, its traffic or its large population (approximately 8 million people). However, it's a city that has been transforming itself into a surprising tourist destination, too.
Bogota offers one of the best nightlife scenes of Latin America, numerous museums and world-class dining and bar culture. It also offers the best of Colombian culture, there is nothing you can't find in Bogota!
Furthermore, its privileged location and international airport make it a highly accessible and convenient city for traveling throughout the region. Bogotá is the perfect jumping-off point to start your Colombia -or South America- trip.
It's the best place to have a taste of what Colombia is, to get familiar with local prices and with the language.
Give it a try, spend a few weeks -or even months- in the city. We guarantee you will fall in love with Bogota in a heartbeat.
Why?
1. Bogota is art
If you love street art, museums and architecture, then you will have an amazing time in the city!
You can have a glimpse into the country's history at the Gold Museum, home to over 55,000 gold pieces and crafts from the pre-Colombian period, before the Spanish conquest of the Americas.
Or, you can visit the Colombian National Museum, the biggest and oldest museum in Colombia.
If you're a modern art lover, then you can visit the Botero Museum. The museum highlights the work of Fernando Botero, Colombia's most famous artist. The museum's collection includes some of his most popular pieces, like his interpretations of the Mona Lisa and Adam and Eve, as well as many of his unique voluminous statues. It also features art pieces from other famous artists like Picasso, Monet, and Renoir.
Or, you can visit the MAMBO (Museo de Arte de Moderno de Bogota). It offers a pluricultural, dynamic and innovative space, which gives audiences a meaningful experience around the art world.
On the other hand, if you are more into urban art, Bogota offers stunning pieces all around the city. Graffiti has been decriminalized in Bogota for almost a decade, which has given Colombian and international artists free reign of the streets.
With regards to architecture, Bogota's style might not be easy to define at first. But if you look closely, Bogota is a city of unique architecture among Latin American countries.
Bogota is known for its red brick buildings designed by architects who mingled their modernism with colonial beauty.
One of the most influential architects is Rogelio Salmona. He gave an identity to the city. His use of red bricks and water as a connecting element revolutionized the aesthetics of the city.
Lastly, Bogota is a hub for fashion, art and design. The city's cultural calendar is filled all year round with festivals, events, parades, exhibitions, concerts and cultural sites.
You can enjoy some of the best Latin American music festivals such as Estereo Picnic and Rock al Parque. World-class art exhibitions such as ARTBO or local exhibitions such as Barcu or La Feria del Millón. And, local design fairs such as Buró.
2. Bogota is fine dining and street food
The best way to experience a culture is through its food.
Bogota is nationally and internationally known for its gastronomy. It offers hundreds of mouthwatering culinary, coffee and beer experiences. From high-end local and international restaurants in the Zona G, Zona T, Usaquén and Parque de la 93, to traditional markets such as Paloquemao and La Perseverancia.
There are heaps of street food throughout the city. Basically in every corner you will find something for snacking (para picar), no kidding!
You will find ensalada de frutas, salpicón, obleas, pinchos, mazorca, mango biche, churros, empanadas, arepas and many others.
And, of course, fruits. Colombia is a fruit paradise, it's home to some of the most exotic and tropical fruit in the world. You can visit one of the local markets to discover an entirely new palette of flavors. And what's best is you will always get "ñapa"!
So, if you are a foodie, don't wait for a second longer and plan a trip to Bogota!
3. Bogota has a hipster soul
It goes without saying, Bogota is Colombia's hipster capital.
It is known for its diverse population and artistic vibes. Neighborhoods such as Chapinero, Zona G and La Candelaria are full of unique cafes and restaurants, bars playing live Colombian music, and people just chilling out.
Bogota is authentic, diverse and open. It is a city of "open doors", people from all around the world and all around the country are welcomed. It's where all cultures converge.
Apart from delicious food, world-class graffiti, and modern and colonial architecture, the city has also become one of the most open and inclusive cities for LGBTQ+ community. There are places like Theatron, one of the biggest gay clubs in the world which can accommodate up to 5,000 people on any given night!
Safe and hip, Bogota is a city that simply can't be missed!
4. Bogota has a mesmerizing view
There's always a great view.
We are lucky to have the Andean mountain range as our background picture. From anywhere in the city you can enjoy the best view of the Eastern Hills (Cerros Orientales).
Even though some people call Bogota " the concrete jungle" due to its size and population, it is a city with a green soul. The Eastern Hills give the city that "green" and natural touch big cities around the world lack.
In Bogota, you can easily get away from the hectic city life to breathe pure air and get connected with nature. There are a large variety of outdoor activities such as mountain biking, hiking and climbing.
5. Bogota has the best coffee
Colombia is known worldwide for producing one of the best coffees in the world. And, we are proud to say that in Bogota you can find the best coffees in Colombia.
You might be wondering how such an urban city could have the best coffee? It doesn't make much sense, does it?
Well, it's not that the coffee is grown or produced in Bogota; the coffee is grown in several regions of the country but Bogota is the only place where you can get all origins.
If you want to get to know better Colombian people and Colombian culture, then you need to understand the coffee culture. For us coffee is not just coffee, it's a lifestyle.
Colombians drink coffee all day long. There is no breakfast without a cup of coffee, there are no work meetings without a cup of coffee, there is not a visit to family relatives, or friends without a cup of coffee.
Well, maybe we are exaggerating a bit -typical Colombian feature- it's not that we "always" drink coffee but it's true, drinking coffee is part of our culture.
So, if you are a coffee lover or just interested in the coffee culture, you would love Bogota!
How is Bogota handling the pandemic?
We started this article by talking about the global pandemic in 2020 and inviting you to visit us in 2021. But we know you might be wondering whether it will be possible or not.
Honestly, no one knows what is happening next year. When this crazy story is going to finish and when we will be able to freely travel and move around again.
However, we do know that Colombia, and specifically Bogota, has been working hard to put all biosafety protocols in place to receive tourists.
Colombia has opened its international airport, businesses (i.e. restaurants, cafes, hotels, etc) have started receiving guests and customers.
Our school is not an exception. We have already opened our doors again and have welcomed new students. Check out one of the latest students' testimonials.
We are confident that we will overcome this global pandemic together. We know that it has been a tough year for all and we know we are keen to travel and explore the world again.
That's why we invite you to visit our country, our city, and to learn Spanish with us. We know that getting to know a culture is easier and nicer when you are able to communicate with locals. And that's what we do at LMTS. We won't only teach you the Spanish language we help you experience the Colombian culture like a Colombian.
https://learnmorethanspanish.com/wp-content/uploads/2020/09/love-bogota-jardin-botanico.jpg
600
800
Jennifer Gonzalez
https://learnmorethanspanish.com/wp-content/uploads/2018/11/spanish-school-colombia-logo.png
Jennifer Gonzalez
2020-11-19 22:06:26
2020-11-20 12:44:12
Why you should visit Bogota in 2021