10 Reasons why Colombia is the perfect place to learn Spanish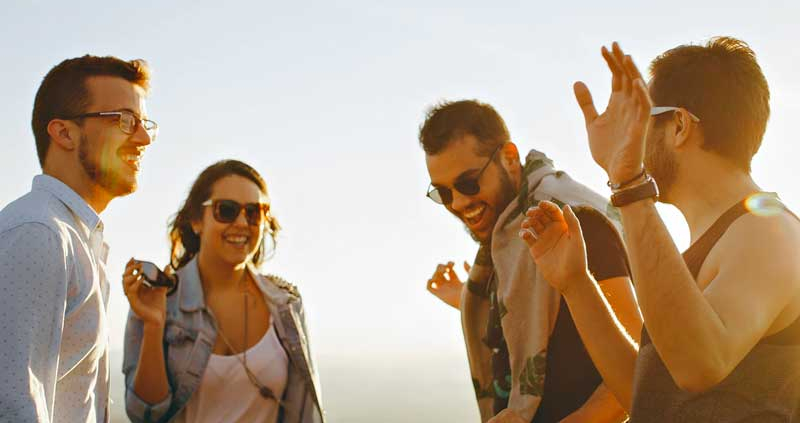 Do you want to explore cosmopolitan cities, snow mountains, and oceans in the same trip?
Or maybe see humpback whales having their babies and pink dolphins swimming next to your boat?
Do you want to see a seven-colours sea and a rainbow river?
Or, do you want to invest in one of the most important Latin America's economies?
What if we tell you that there is a place where you can do all these things while meeting the friendliest people of the world as well as learning a new language?
Yes, there is. This place is Colombia!
More than 2,000 people a year now travel to Colombia to learn Spanish. It has become one of the top destinations to learn this language.
Here 10 reasons why Colombia is the perfect place for you to learn Spanish:
1. Colombia's strategic location
Bogota's International Airport is one of the largest passenger hubs in Latin America.
It handles over 30 million travelers per year and has several daily nonstop flights to the major cities in the Americas and Europe.
Colombia is known as the "Gateway of South America".
It is located in the northwest part of the continent and connects South America with Central America.
So, If you are traveling around any of these parts of the continent, Colombia is the best place to start your trip.
2. Colombians are one of the friendliest and most welcoming people of the world
Colombians happy, friendly, and spontaneous people. We love talking, we make jokes and make friends easily.
When you travel or live in Colombia don't be surprised by being invited to friends and family gatherings, even if you just have met them one day ago, or even a few hours ago.
There is no better way of experiencing a country than by talking to its people!
That is why every day more people have decided to visit the country and start their journey with an immersion of the Spanish language.
If you want to read what people think about Colombians you should read our post "10 joys and challenges of having a Colombian partner"
3. Colombia's rich cultural diversity
Are you one of those passionate about world cultures?
Then Colombia is should be in your bucket list! It is a dream destination for all those who love traditional music, food, history, and art.
One of the things people like the most when visiting Colombia is to discover the different cultures within the country. Each region has its traditions, its unique customs, and its accent.
Colombians are a fascinating blend of people and cultures. If you want to know more about Colombian people read our post "People of Colombia, as diverse as their country"
4. Colombia is one of the main world's emerging economies
Latin America and Africa are now known as "the new Asia" in terms of profitable market opportunities.
Colombia is one of the countries leading these economies. It is the 32nd largest economy in the world and the 4th in Latin America.
The country sits at an important corner for world trade, the country's macroeconomic indicators (i..e. GDP, unemployment, inflation) are improving, and the middle class is rising.
In the past, Colombia was a high-risk country for foreign investors due to internal conflict. But since the political situation has stabilized, foreign investment has increased.
For instance, Softbank Group Corp invested $1B in the Colombian unicorn, Rappi.
With over $1.4B in disclosed funding, Rappi is now one of the highest-funded Latin American startups.
5. Affordable cost of living
For North American or European standards the cost of living in Colombia is relatively low. It depends, of course, on your likes and lifestyle.
In cities like Bogota, Medellín, or Cartagena, like in any other cosmopolitan city, you might spend quite some money if you don't control your expenses. But, in general, living in Colombia is very affordable.
For example, below are some rough costs (USD) for somebody living in a neighborhood like Chapinero in Bogota near our Spanish school.
Accommodation
1 bedroom apartment – $500 per month
Private bedroom in a shared apartment – $200 per month
A dorm bed in a hostel – $10 per night
Private room in a hotel – $50 per night
Food and Drinks
A "menú del día" (day menu), which is normally a traditional Colombian dish that comes with soup, juice and sometimes even dessert – $4
Street food all around the city – less than $2
Main course meal at a mid-level restaurant – $10
Main course meal at a high-end restaurant – $25
Craft beer in a Pub – $3
Cocktail in a trendy rooftop– $10
Transportation
A local city bus or Transmilenio – $0.70c
30 min Taxi or Uber trip – $5
Bus trip to cities like Medellin, Cali or Bucaramanga – $25
Round-trip flights to the Caribbean coast – $100
6. Plenty of natural places to explore
Colombia is listed as one of the world's "megadiverse" countries. It hosts close to 10% of the planet's biodiversity.
There are 17 megadiverse countries in the world; eight in America, five in Asia, and four in Africa. Those countries together host around 70% of world biodiversity
Colombia is the second country with the most biodiversity per square kilometer. 41 natural parks, 11 fauna and flora sanctuaries, 2 national nature reserves, and 5 biosphere reserves.
Also, just to name a few of the wonders of the country,  you can find in Colombia:
7. You can find any climate, anytime
Colombia is known for its great climatic diversity. The climates are usually categorized according to the elevation of the mountains. This is known as "pisos termicos" in Spanish.
Furthermore, thanks to its geographical proximity to the equator, Colombia doesn't have typical seasons like spring, summer, fall, or winter. Instead, there are only two seasons, rainy and dry season. This makes the weather stays more or less the same all year round in each region.
The best of having a climate defined by the elevation of the mountains is that you don't need to plan your trips according to the season.
If you feel like having a "summer" holiday you can book anytime a flight to the Caribbean coast. Or, if you are in Bogotá you can drive 3-4 hours to small cities and towns which are around 30 degrees all year round.
If you feel like having a "spring" break you can visit Medellín, a city known for being "the city of the eternal spring".
If you like the "autumn" feeling, you can spend some time in Bogota, the country's capital city. Bogota brings together the best of Colombia; its music, its food, its art, its people. The cultural offer is infinite. Read our post "Bogota: Cultural diversity in just one place"
And if you feel like winter, you can plan a trip to one of the many snow-capped mountains of the country.
8. No student permit needed
You do not need a study permit to enroll in a short-term study program.
Holders of passports from 99 countries do not require a visa to enter Colombia for a maximum stay of 90 days. During your stay as a tourist, you can enroll any short-term Spanish course
If you fall in love with Colombia, which we tell you in advance that it usually happens, and wish to stay longer, then you can extend your stay for another 90 days paying only about $25USD
9. Easiest Spanish to learn
It is often said that Colombians speak one of the most neutral Spanish in the world. By "Colombian Spanish" people normally refers to the dialect spoken in Bogota.
Although there are many accents, dialects, slangs, and expressions. Is it true that Colombian Spanish is one of the easiest to understand and learn?
Colombian people, mostly those from the center of the country, tend to speak slowly and clearly. Even with only a limited knowledge of the language, you will have a much better chance of understanding a conversation with Colombians than you would with Spaniards or Chileans, for instance.
When we say "neutral" it doesn't mean we don't have an accent. We do have "an accent" but it is an undeniably pleasant one.
So, if you learn Spanish in Colombia, you will not only pick up a beautiful and understandable accent but you easily communicate with any other native Spanish speaker.
Read also our post: "Top 5 differences Spanish from Colombia and Spanish from Spain"
10. Locals don't speak much English
Last but not least, Colombia is particularly a great location to learn and improve your Spanish language because most of the people don't speak much English.
You might find people who speak very good English in big cities, in touristic places, or in hotels and hostels. However, when going to restaurants, when taking a taxi or a local bus, or when visiting small towns finding people that speak English might be difficult.
Don't worry about it. Colombians will always find a way to communicate with you, either by sign language, by smiling, or by google translator, and since you will be forced to practice you will learn to speak Spanish faster!
These are enough reasons to choose Colombia as your next destination for learning Spanish, right?
Don't forget to follow our social media channels and to read our blog here!
https://learnmorethanspanish.com/wp-content/uploads/2020/07/10-reasons-colombia-perfect-place-learn-spanish-2.jpg
600
800
Jennifer Gonzalez
https://learnmorethanspanish.com/wp-content/uploads/2018/11/spanish-school-colombia-logo.png
Jennifer Gonzalez
2020-07-02 13:03:13
2021-05-15 21:59:45
10 Reasons why Colombia is the perfect place to learn Spanish