How to choose a Spanish course in Colombia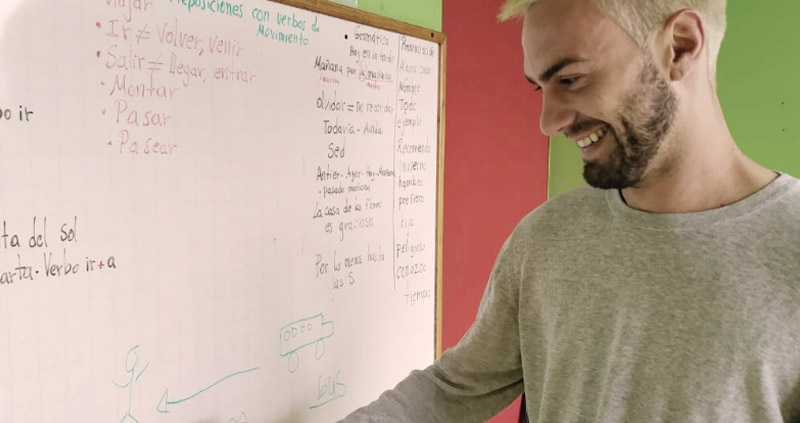 Spanish is one of the most studied languages worldwide nowadays. There are so many options to start learning and for improving the language. It's a matter of making the decision, have discipline and practice as much as possible.
You could use many of the Apps available, enroll in group classes in your city, or have a private tutor. Also, you could take some time off to travel and get the best language immersion experience.
In this post, we are talking about the last one, a language immersion experience.
What should you ask yourself before start looking for a Spanish course that suits your needs?
Before start looking for the best Spanish course ask yourself these questions:
What is your current level of Spanish?
What is your motivation for learning Spanish?
What level are you looking to achieve?
How much time are you willing to invest in learning the language?
Of course, how much money are you willing to invest?
After having these aspects clear you can focus on finding the best Spanish course for you.
You might learn Spanish for traveling and for talking to local people. Or, you might learn it for communicating better with your family's relatives.
Spanish is also a language people earn for improving their career opportunities.
Whatever your goal is, make sure you analyze the following aspects:
Location
You might think the location doesn't matter, but it is a crucial aspect.
People Learning Spanish are sometimes overwhelmed by the number of Spanish classes offered.
A good way to start narrowing down your selection is by choosing the location of your Spanish school.
This is important because that's going to be the place where you are going to pick up your Spanish accent.
Also, it's going to be the place where you will spend some time and certainly, immerse yourself in the culture.
ELE certified teachers
When exploring Spanish schools, check first the qualifications of the teachers.
You should ask if they are native speakers but also what certifications they have.
Being a native speaker is not enough. Certifications, experience, and attitude are crucial.
A great advantage if the teachers are also bilingual or have an understanding of your mother tongue. It would be much easier for you to communicate with them.
They know the country's culture and customs very well. They will be able to translate expressions and colloquialisms and to explain those topics that drive most of the people crazy.
Our teachers are highly qualified native Spanish speakers, passionate about teaching. They provide an amazing classroom experience!
Duration of the program
New Spanish learners are not always clear on how much time they want to invest in learning the language.
That is why it's important to ask yourself the questions listed above. It will give you clarity and will help you plan your immersion experience better.
Learning a new language it's a process and it takes some time. You can start by choosing 1-3 weeks General Spanish program to get by while traveling.
Then, if you feel like deepening your knowledge of the language, you can try longer-term programs. For instance, D.E.L.E exam preparation, or Spanish for business.
Services the school has to offer
Learning Spanish must be fun!
People learn a new language to have social interactions and to get to know new cultures better.
Learning grammar and having strong foundations on the language is very important. But, keep in mind that when you are out there, talking and interacting with people, is when you are going to learn more.
Thus, you should also look for a Spanish school where you can put into practice what you learn in the classroom.
As we say it at LMTS "Learning Spanish at our school is not just about studying in a classroom". Our students practice what they have learned during the week interacting with locals. All with the guidance of our teachers.
Some of the activities LMTS offers are Graffiti Tour, National University Tour, and Quinta de Bolivar visit. Sometimes we also do a botanical garden tour, city center tour, and coffee tasting.
Volunteering is another service LMTS offers to Spanish students. They can practice the language while making a difference in the lives of others.
Mixing classes with social activities makes the language immersion an excellent experience.
Flexible study options
Another important aspect to take into account is the flexibility of study options. It's important to find a Spanish school that suits your needs and expectations.
One of the advantages of studying Spanish in Colombia is that we don't have typical seasons as North American and European countries have.
Spanish courses are open all year round and start dates are pretty flexible.
With regards to classes, the Spanish school must offer you a private, group, and online classes.
Why?
Because you can combine them and get the most out of each option.
For example, when you are a beginner you could join group classes. You will get to know new people and you will learn the basics of grammar and pronunciation.
When signing up for group classes make sure the size of the class is not too big, not bigger than 10 people.
Smaller class sizes allow for more personalized attention for students. The teacher can tailor lessons more specifically to different students.
Then, if you feel like improving a specific skill, like speaking, you can opt for private classes. In this case, the teacher will be focused only on you and you will see your improvement in very fast.
And, when your immersion program is over you could keep up the language with online sessions.
Teaching methods
Asking the Spanish school for the teaching method is also important. It does not mean that one is better than the other, but that they are different. Perhaps some are more suited to your tastes than others.
First of all, define to yourself what is your preferred learning method.
Do you like more theoretical classes? or do you prefer more visual and experiential classes?
Are you one of those who learn easier by writing things down and reading?
Or, one of those who learn easier by talking and listening to other people?
Once you have this clear ask the Spanish schools about their teaching method, the materials they use, and the activities they do. Ask them also how often your teacher will change. This is important for you to get used to different people's accents and styles.
In conclusion
Choosing a Spanish school is not always an easy process. A lot of different factors have to be taken into account: their location, small class numbers, flexibility, and study hours among others.
Choosing the right school carefully can help you maximize the experience both personally and academically and give you the best possible results.
If you have any questions about the different learning options at LMTS do not hesitate to contact us!
https://learnmorethanspanish.com/wp-content/uploads/2020/08/how-choose-spanish-course-colombia.jpg
600
800
Jennifer Gonzalez
https://learnmorethanspanish.com/wp-content/uploads/2023/10/learn-spanish-colombia-logo-2023.png
Jennifer Gonzalez
2020-08-08 11:42:06
2020-08-08 12:33:41
How to choose a Spanish course in Colombia