Learn More Than Spanish: 7 Things that make us unique

There are hundreds – or even thousands- of Spanish schools around the world. All schools claim they are different, or the "best in town".
But, what actually makes one school different from the others?
And, what makes LMTS not only different but special and unique?
In this article, we will go through some of the features that -according to our students- make LMTS unique.
Let's start from the beginning!
What's Learn More Than Spanish?
LMTS is a diverse and multicultural Spanish school based in Bogota, Colombia. We have been established since 2013, and we have hosted hundreds of students from multiple countries around the world.
Languages go beyond just grammar; languages are also cultural expressions.
As our name indicates, our students learn more than the Spanish language. They learn – and experience- the Colombian culture.
We aim to create the most dynamic learning experience for each one of the students that come to LMTS.
We know that each person has a different motivation for learning the language. We also know that each person learns at a different pace and wants to focus on specific skills.
That is why our Spanish language programs are as personalized as possible. And, this is exactly one of the things that make LMTS unique.
What makes LMTS unique?
What makes LMTS unique is the mix of professionalism and a cozy environment.
LMTS is an authentic Spanish school. The atmosphere is cozy and welcoming. Students feel welcome from the reception to the classrooms. Teachers show their interest in the progress of each student.
Students can feel that both teachers and the administrative team love their job, love having students around and do every single thing from the bottom of their hearts.
Furthermore, our programs have a strong academic component, they are well-structured and interactive.
Students learn the proper use of the language; they learn formal and informal variations. They learn how to get around, but also learn how to communicate properly in academic and professional environments.
We are proud to say that LMTS has been a life experience for all our students, regardless of the length of the course.
They have learned Spanish with us for one week, two weeks and even intensive one-month courses. We are also proud to say that many of them continue learning Spanish from home.
What are the features they like the most about their experience?
1. Small class size
Our group classes vary in size but they are never bigger than three students.
The smaller the class size, the more personalized attention for students. Small-size classes allow the teacher to tailor lessons to each one of the student's needs.
Students enjoy the attention they receive from the teachers. They feel more confident asking questions and they don't feel the rush of learning at the same pace as their fellow students. They enjoy the learning process at their own pace.
Our school also offers 1:1 classes. Students love this option because they get full attention from their tutor, and they see results quickly. Students feel more confident after a few classes and they are able to communicate easily after a couple of weeks.
2. Flexibility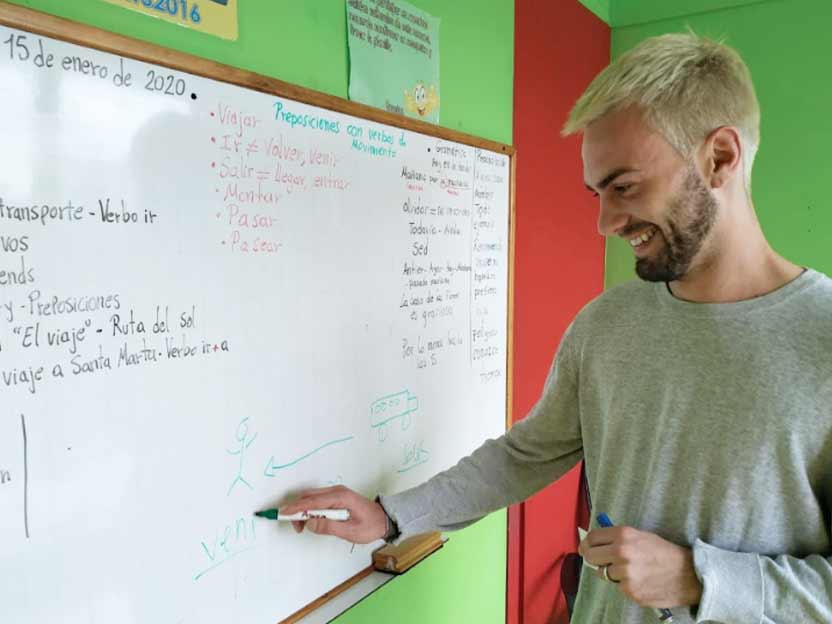 Our Spanish courses are open all year round and our start dates are flexible to suit each student. And, our programs give each student the flexibility of choosing their own schedule; their course, level, duration and intensity.
Students can choose the program that suits their needs better and the number of hours they want per day/week. They can also mix their academic program with social and cultural activities to put into practice what they have learned in the classroom.
3. Highly qualified teachers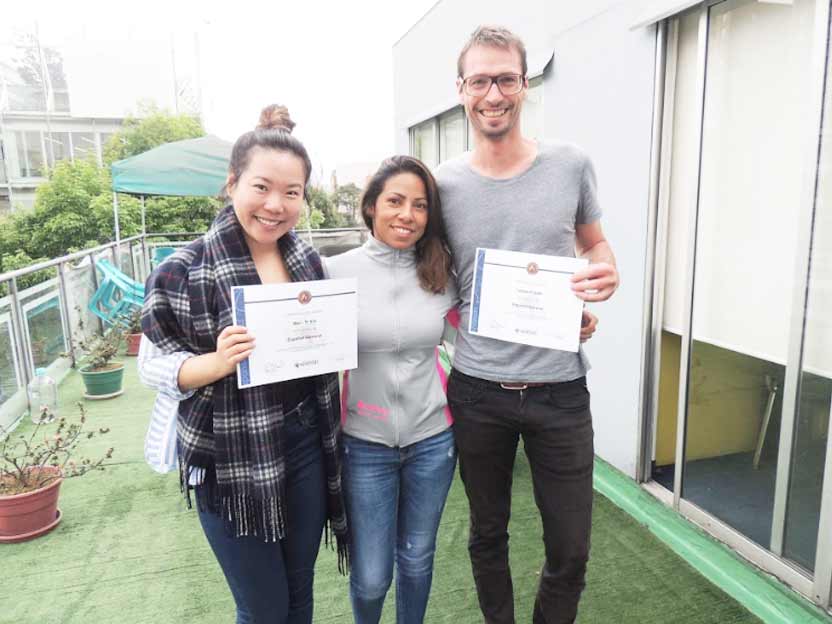 All our teachers are native Spanish-speakers and certified professionals. They are fully qualified and experienced in teaching Spanish as a second language (ELE).
They are professionals in linguistics, political science, tourism, and other disciplines. They have also traveled the world and taught Spanish as a foreign language abroad. They are highly qualified to cover any topic the student wants to deepen in, from general Spanish to business Spanish.
4. Teaching methods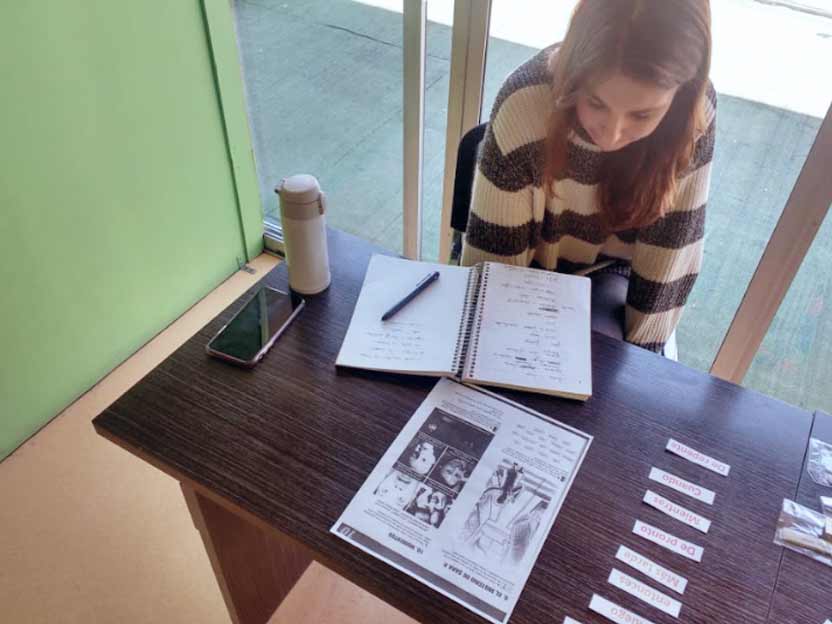 The teaching methods depend on the program and preferences of each student.
Some students prefer to focus more on grammar and the proper use of the language. Others prefer to focus on how to get around and interact with locals.
All lessons are planned following the guidelines of the Common European Framework of Reference for Languages. Although the lessons have a strong academic component, each lesson is tailored to the student's preferences.
5. Personalized & dynamic classes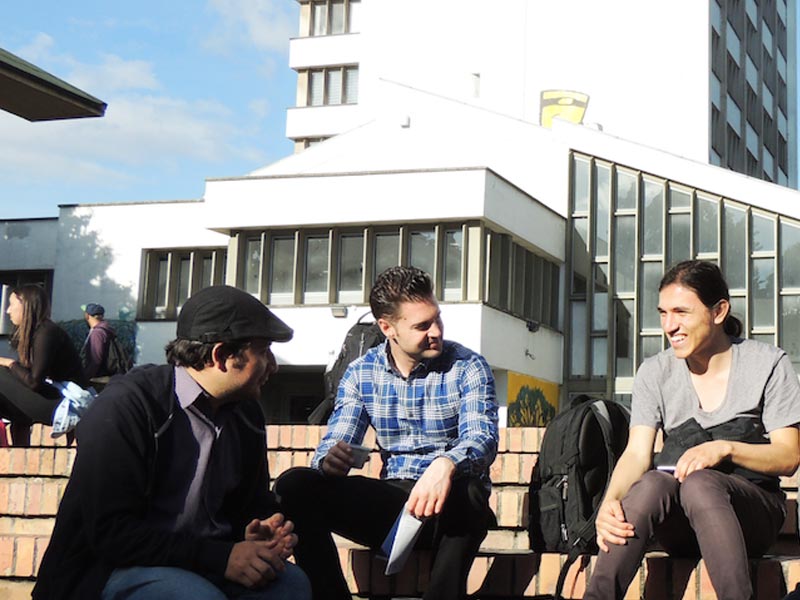 Our classes are not only small in size and very academic; they are also personalized and dynamic.
We ask new students what their motivation for learning the language. Then, we design and propose a program that suits their needs and expectations.
Students can choose General Spanish – let's say for traveling around Colombia or Latin America-. They can also choose a private tutor for improving their academic skills to get high results in the D.E.L.E test. Or, they can choose business Spanish if their goal is working or investing in the country.
Furthermore, the materials used in each class are designed to be interactive and fun. We tailor each lesson -in and outside the classroom- to the student's interests.
Our activities vary from reading books to learning Colombian songs. And, from learning the different Colombian accents to learning about the coffee culture.
6. Social and Cultural Activities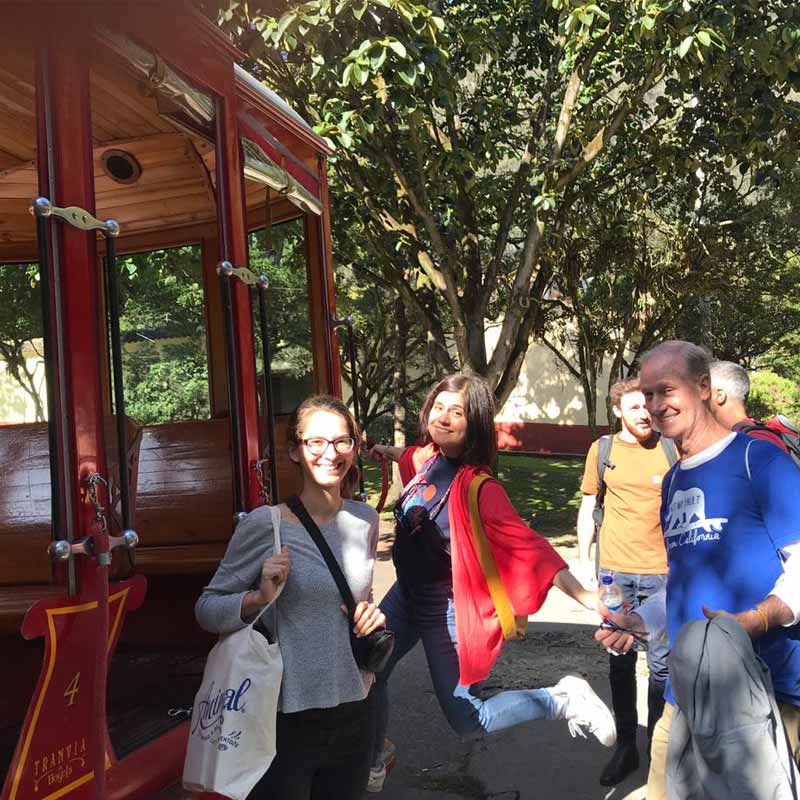 Our Spanish courses go beyond the classroom. We offer several activities in which students can put into practice what they have learned during the week.
Interacting with locals not only gives students a taste of what life in Colombia is like. It also helps them to improve their listening and speaking skills.
Our social and cultural activities allow students to learn the most popular Colombian slang. Also, to be more confident when it comes to talking and interacting with people that don't speak their mother tongue.
Furthermore, social and cultural activities connect students emotionally with our culture. These experiences allow them to expand their hearts and minds toward countries other than their native one.
7. Volunteering program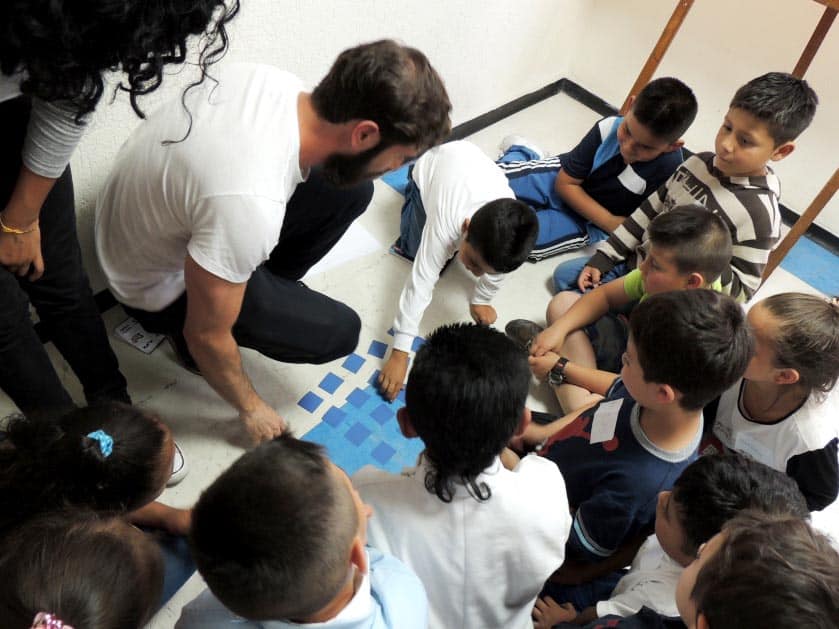 One of the activities our students enjoy the most is volunteering.
Throughout the years, at LMTS we have developed strong relationships with local schools and people from the local markets.
LMTS Volunteering Program put the students' Spanish language skills to the test while supporting educational initiatives.
For instance, LMTS students volunteer as English teachers. Our school has partnered with "El Instituto para la Economía Social -IPES- " to help kids from the Farmers Markets.
Markets such as "Plaza de mercado La Perseverancia", "Plaza de mercado del 20 de Julio" and "Plaza de mercado Quirigua".
What do our students say about LMTS?
Students come from all over the world to study Spanish with us in Bogotá, Colombia. Listen to what they have to say about their incredible experience studying with us.
Lois & Julia (Ireland)
Listen to Lois and Julia talking about their Spanish Classes at LMTS. They were traveling around South America for a few months and decided to study the Spanish language in Bogota.
They participated in our volunteer program and several cultural activities.
Wiam (Morocco)
Listen to Wiam talking about her experience with us. She had a private tutor for one month.
She was happy to see how quickly she improved her Spanish in such a short time.
Angela (USA)
Listen to the experience of one of the first students we received at LMTS after the national lockdown was released.
She studied Spanish with us for a week. She felt happy and safe with the biosafety protocols our school has adopted.
Adam & Kelly (USA)
Listen to Adam and Kelly talking about their experience at LMTS. They took classes as a couple for one month and had a wonderful experience.
Kelly had some understanding of the language, while Adam was a beginner. They were happy to see how they had improved in just one month. After the course, they were able to communicate easily with locals.
Do you want to know other students' experiences? Check out our Testimonials page or our Youtube Channel. There are more than a hundred testimonials of students from all around the world.
https://learnmorethanspanish.com/wp-content/uploads/2020/10/spanish-school-colombia-cover-5.jpg
1200
1866
Jennifer Gonzalez
https://learnmorethanspanish.com/wp-content/uploads/2018/11/spanish-school-colombia-logo.png
Jennifer Gonzalez
2020-11-11 14:10:01
2020-11-16 20:53:41
Learn More Than Spanish: 7 Things that make us unique