Bogota: A guide for getting around in the city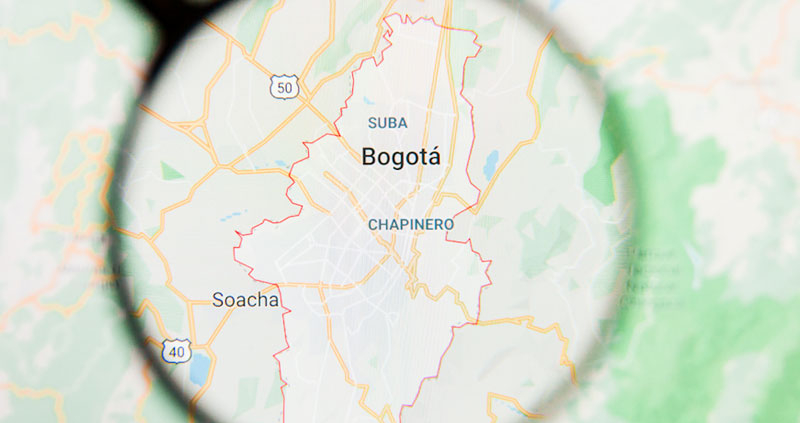 Planning to study Spanish in Bogota?
Great! We are here to help you learn Spanish and get around the city.
Let's start by telling you that you have chosen a wonderful city. Bogota is a fantastic starting point for any trip to Colombia. It is a vibrant, diverse and cosmopolitan city.
Bogota is a huge metropolis; there are about nine million people living in the city. Thus, you can imagine how overwhelming it could be to get around the city.
We want you to have the best experience while studying Spanish in Bogota. So, we have prepared this article with basic information for you to learn before your arrival.
Bogota's Neighbourhoods
Bogota is divided into 20 districts or "localidades" as we called them in Colombia.
When you are in Bogota you will more likely be living or hanging around in a few districts: La Candelaria, Chapinero, Teusaquillo and Usaquen. Those districts are where most of the fun happens.
Our Spanish school is located in Chapinero District. It is located just in the heart of the city, a very convenient location for you to explore the cultural diversity the city has to offer.
Now that you are familiar with the Districts, let's move to one of the topics people are usually most confused about: addresses.
How to find an address in Bogota?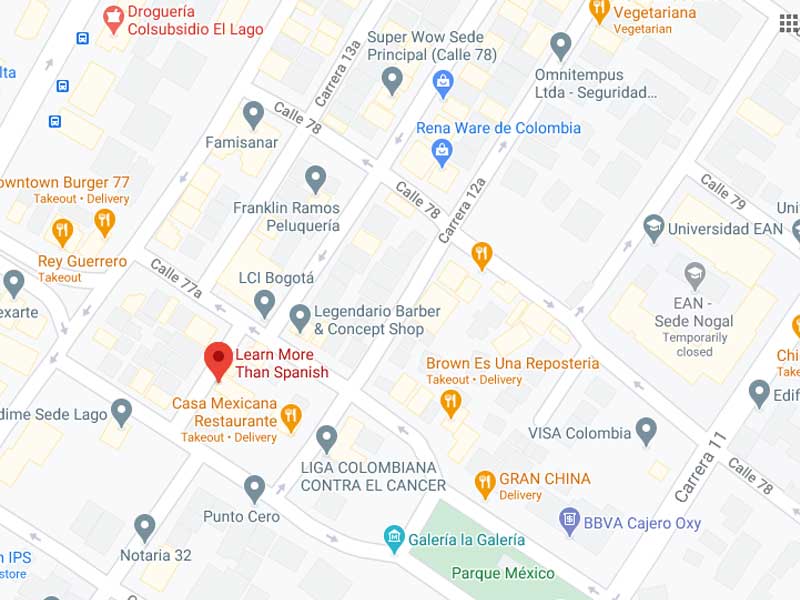 Contrary to most of the countries, Colombia uses numbers instead of names for streets. Even though at first, it might seem a bit complicated, it is actually easy and straightforward.
Foreigners usually have a hard time when reading an address in Bogota for the first time. It's totally understandable, they are not used to our system based on numbers.
They are also not used to the different words we use in Colombian Spanish for "street". We accept, this is a bit confusing but here we are to guide you.
First of all, you need to learn that in Colombian Spanish we use two different words for "street":
Calle (Abbreviation Cll.)
Carrera (Abbreviation Cra.)
Calles and Carreras generally run perpendicular to each other.
Carrera runs north and south. Carrera street numbers increase as you go further west.
Calle runs east and west. Calle street numbers increase as you go further north.
An address in Bogota normally follows this format:
| | Address Example 1 | ADDRESS Example 2 |
| --- | --- | --- |
| Main Street | Calle or Cll. | Carrera or Cra. |
| Number (Could be combined with a letter) | 79B | 13 |
| # sign | # | # |
| Street intersection number, the nearest Calle or Carrera (Could be combined with a letter) | 7 | 77 |
| – sign | – | – |
| House or building number | 12 | 44 |
| Complete address | Cll. 79B #7-12 | Carrera 13 #77-44 |
You can also find Avenida, Transversal, Diagonal, Vía or Circular for Street names.
For example, this is the address for Learn More Than Spanish: Carrera 13 #77-44 Piso 5
Bogotá, Cundinamarca, Colombia
Learning how to read the addresses in Bogota will save you a lot of time and stress while getting around the city.
You will use addresses all the time. When going to your Spanish school, to a restaurant, or when visiting your new friends.
So, it's important you know how to explain the address to the taxi or Uber drivers.
Navigating the city
Now that you have learned how to read the addresses, you can learn how to move around the city.
In a city like Bogota, you have to be smart when choosing how to go from one place to another. Keep always in mind than during rush hours it would be sometimes better to walk or cycle than taking a taxi, Uber or a bus.
Let's see what transportation options we have in Bogota:
TransMilenio
Transmilenio is a bus rapid transit (BRT) system that operates from 5 am until 11 pm, from Monday to Friday. Keep in mind that routes and frequencies might change during the weekends.
It covers almost all the city, from North to South and from East to West. There are some stations that are usually busier than others.
Also, like any other capital city of the world, during rush hours, stations and busses might be packed. So, try to avoid taking Transmilenio from Monday to Friday from 7 am – 9 am and 5 pm- 7 pm.
Transmilenio tickets cost about $0.70USD. You can take as many busses as you like with the same ticket as long as you don't exit the station.
Cultural Tip: In Colombian Spanish, we like to speak with diminutives. You would hear everybody saying "transmi" instead of "transmilenio"
SITP
Another option is SITP busses.
SITP are blue busses. They don't have independent stations but "paradas" (Stops). They also run all around the city.
SITP tickets cost the same as a Transmilenio ticket. You need the same card you use for TransMilenio to take one of these busses.You can buy one of those cards at any of the main Transmilenio stations.
Check SITP official website for more information (It's also an opportunity to practice your Spanish). If you feel confident enough to go and explore the city with Transmilenio or SITP you can find the routes here.
Cycling
If you are more like a cycling person, then Bogota is the perfect city for you.
Bogota has one of the most extensive cycle path networks or "ciclorutas"  in South America and one the largest in the world.
The routes are also integrated with TransMilenio; it has bicycle parking facilities. So, you can combine cycling for short or medium distances, and taking TransMilenio for long distances.
On Sundays and National Holidays, several streets closed to traffic from 7 am until 2 pm. We call this practice "ciclovia". It is when the streets are reserved only for cyclists, runners and skaters.
Walking
You might not believe us but sometimes you will arrive at your destination more easily by walking than by car!
Yes, traffic is one of the things we, Bogotanos, are not proud of.
That's why we always suggest people find accommodation near the Spanish School.
In Spanish you will normally hear "a pie".
"A pie" literally means "On foot" but when we say this we refer to walking from one place to another.
For example:
"Vamos al centro comercial en carro o a pie? – Vamos mejor a pie. A esta hora hay mucho trancón"
Shall we drive to the mall or shall we go walking? – Let's walk. At this time there is so much traffic
Taxi or Uber
Taking taxis or Uber is very common in Bogota. These services are not as expensive as they are in other world's capital cities.
15min – 30min Taxi or Uber trip costs about $4-8 USD
> 1-hour Taxi or Uber trip costs about $8-10 USD
Download these Apps. They will make your life easier:
For Android and iOS
We highly recommend not to take taxis on the street. Not only because of safety reasons but because it is easier to type the address in the App than to explain it to the driver.
If you use the Apps instead you make sure that you type the address you need and the driver will take you to the right location.
Arriving in Bogota: How to get from the airport to the city?
Your first "adventure" in Bogota will be getting from the International airport to your hotel or apartment.
It is actually pretty easy. Your options are Taxi, Uber or TransMilenio.
Also, at Learn More Than Spanish we offer pick-up services from and to the international airport. We know people don't like getting into such adventures after a long flight.
If it's your first time in Bogota we recommend taking one of the airport taxis. All taxis at the airport have an extra fee but after a long flight, you wouldn't like to get stressed figuring out how to get to your hotel or apartment.
It is also possible to take Uber. However, Uber drivers can't park on the main airport street. You would need to call or message them to arrange the pickup point. That would be a great opportunity to test your Spanish skills, but be aware it can also be a bit frustrating.
Finally, TransMilenio is a good option depending on where your hotel or apartment is. You would need to be very clear about the route you need to take. The only route that goes directly to and from the international airport is M86
Whatever option you choose make sure you know the basic vocabulary to get directions!
But, if you prefer us to pick you up, feel free to contact us here!
We hope you enjoy reading this article. If you have any questions about studying Spanish in Bogota do not hesitate to contact us. Our team will be happy to assist you!

https://learnmorethanspanish.com/wp-content/uploads/2020/09/bogota-guide-getting-around-city.jpg
600
800
Jennifer Gonzalez
https://learnmorethanspanish.com/wp-content/uploads/2018/11/spanish-school-colombia-logo.png
Jennifer Gonzalez
2020-09-08 13:17:02
2021-05-27 18:24:21
Bogota: A guide for getting around in the city