12 unique things to do in Bogota while you are learning Spanish
Bogota is a city that stands out in Latin America due to the amount of free or affordable cultural spaces and activities.
There are a million things to do in Bogota. All year round you can enjoy cultural activities, concerts and city tours. You can also enjoy the great variety of national and international cuisine, bars and cafés.
Spanish language students might spend their first days exploring Bogota's "Must see" attractions. Which include the Gold Museum, Monserrate, Simon Bolivar Metropolitan Park, Usaquen Flea Market and Bolivar main square. They might also join a city's graffiti tour, a salsa class or a night out in the popular Andres Carne de Res.
If you have done that already, great! Now you are ready to explore Bogota on a deeper level.
Bogota has so much more to offer. We guarantee you won't be bored during your stay.
That's why we have prepared this list of 12 unique things to do in Bogota while you are learning Spanish!
1. Visit The Botanical Garden of Bogota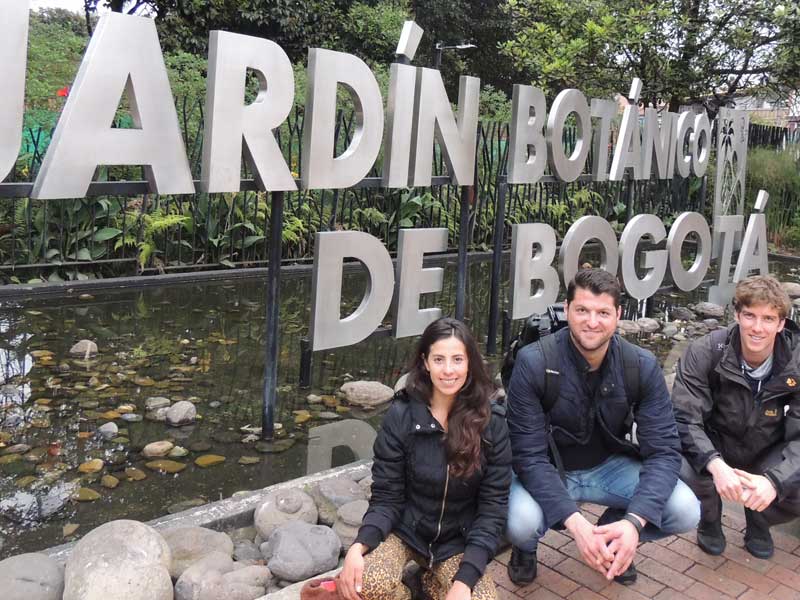 The Botanical Garden of Bogotá opened in 1955. It is home to almost 20,000 plants. It serves both as a recreation and research center with an emphasis on Andean and Páramo ecosystems.
It is one of the most beautiful and peaceful places in the city.
We know Bogota could get chaotic sometimes. So, if you feel like having a break from your Spanish classes to have a walk and grasp some fresh air and tranquility, then The Botanical Garden is a place you should visit.
2. Travel back in time by Bogota's Tranvía (Tram)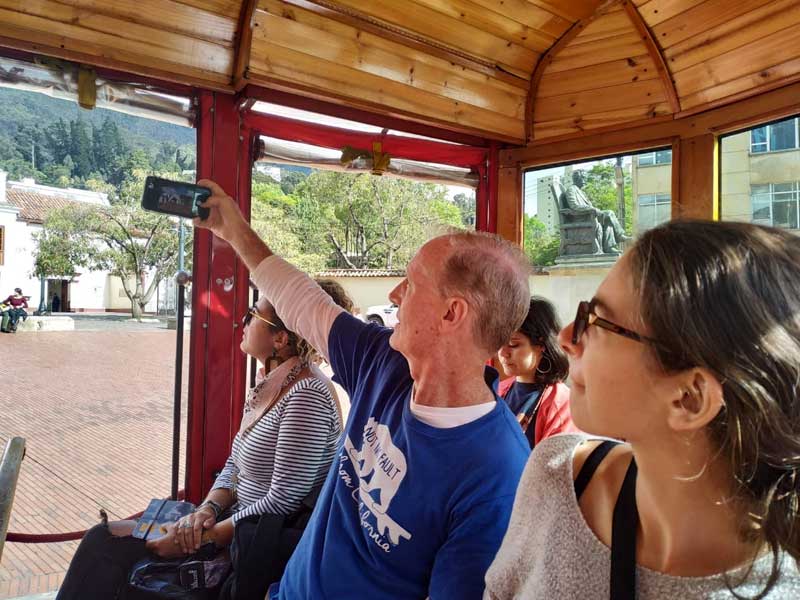 The tranvía, or Tram in English, is a cultural service that takes part in Bogota's historic center.
This service seeks to immerse the visitors in a unique experience, in a journey through time. With the support of professional actors and audiovisual material, visitors have the opportunity to live the ancient Bogota.
3. Enjoy a panoramic view from Top of Colpatria Tower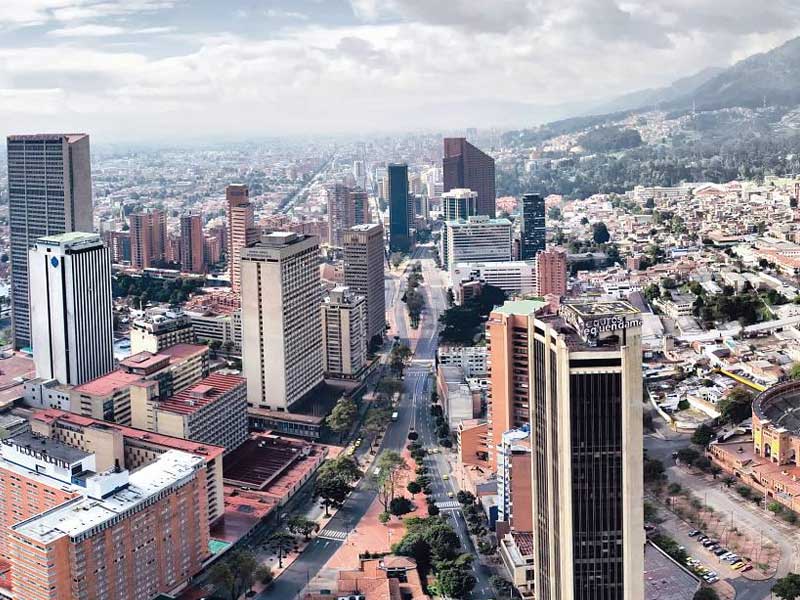 If you have enjoyed the view from the top of Monserrate, then you will love the view from the Colpatria tower.
The building was finished in 1979. It is located in the International Center of Bogota.
The Colpatria Tower is one of the tallest buildings in Bogotá; it has 49 floors and a height of 561 feet (171 m). It is the second tallest building in Bogota and the third highest in Colombia. It offers a panoramic 360-degree view of the city.
The building has a LED light system that allows the projection of images on all four sides of the facade.
Interesting fact: An ascent race is held in the Colpatria Tower that is part of the Towerrunning World Cup world circuit of the 160 tallest buildings in the world. From 2012 it entered the Master Races group among the 18 best ascent races in the world.
Official Website: http://bogotaturismo.gov.co/mirador-de-la-torre-colpatria
Entrance Fee: $7.000 COP (1.8 USD)
4. Walk, enjoy street art and gamble on guinea pigs races at Carrera Séptima (7th Street)
The Seventh Street, or Carrera Septima in Spanish, is one of the principal streets which communicates the eastern side of the city north and south.
It is the most important thoroughfare of the city in the sense of history, culture, economy, and society.
It was built during Colonial times based on an old indigenous route that linked salt mining towns of Nemocón and Usaquén.
During the 1960s, it was common to walk and gather on this street. People started performing entertainment activities, selling street food, and offering a wide selection of curiosities.
Thus, it became a tradition to walk along Carrera Séptima as entertainment and as a place for buying handcrafts, food, art, and clothing. This activity was -as it is still- named "Septimazo".
Check out the following video. You will have a glimpse of what a "Septimazo" looks like.
One of the things that tourists find more interesting and fun is the guinea pigs gambling races.
What? Do people gamble on guinea pigs races?
Yes! Welcome to Colombia.
Colombians never stop creating new ideas for earning money. They always use their creativity to find ways to make a little cash "para sobrevivir" (literally translated as "survive")
Check out how a guinea pigs race looks like:
Entrance Fee: No entrance fee
5. Go on a Ghost Tour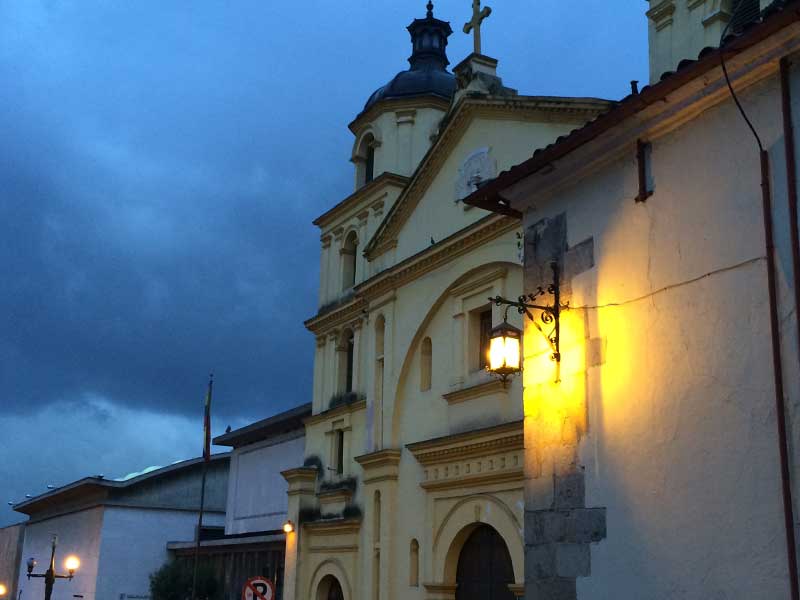 This is a unique tour, isn't it?
It takes place in La Candelaria district. Bogota's historic center is the perfect place to hear ghost stories and to learn colonial stories and interesting facts about the capital's heritage.
It's a journey from the times of Spanish conquest to the modern-day including the Bogotazo and the siege of the Palace of Justice.
Fear not! You will be accompanied by a group of locals and tourists. It's a great opportunity to improve your Spanish listening skills!
Entrance fee: $35.000 (10 USD)
6. Try a Coffee Cupping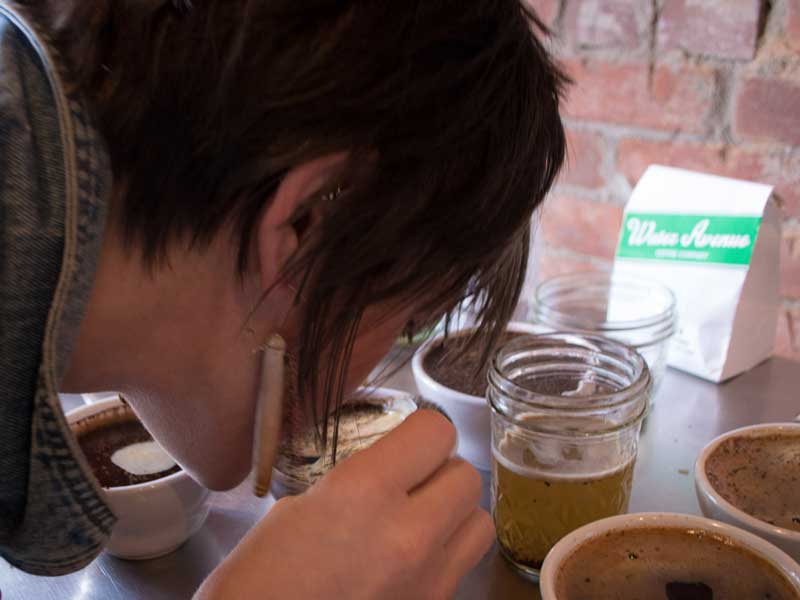 We all know that Colombian coffee is renowned the world over for its quality and delicious taste, don't we?
But, why is it considered one of the world's best coffees?
Well, coffee is such an art. We could write a full article just on the characteristics of our beloved Colombian coffee.
But for now, we can tell you the three principal factors which determine the quality of our coffee:
Geography and climate
Colombia has the perfect geography for growing coffee. The richness of flavor is mainly due to the excellent climate, fertile soil and the exact right amount of rainfall.
The growing and harvesting process
Having good growing and collection methods are as important as having a perfect climate and fertile soil.
The best coffee is grown on steep slopes, surrounded by banana plants. They provide the needed shade and prevent the beans from being scorched in the sun.
With regards to harvesting, every bean is picked by hand. Yes, by hand! which makes only the best coffee beans make it to your cup.
The type of coffee
There are two different types of coffee bean: arabica and robusta. Colombia is one of the only countries that produce 100% arabica beans.
Arabica is considered to be the superior bean. It has a sweeter and lighter taste, and it contains less caffeine.
For Colombians coffee is not just coffee, coffee is part of the culture.
If you want to try some of the country's best coffees you should definitely join a coffee cupping (or coffee tasting).
There are many nice cafes around the city where you can do it. Some of them are: Café Cultor, Kiri Café, Catación Pública or Amor Perfecto
You will have the opportunity to try different origins and to learn how to recognize its notes, aromas and flavors.
7. Go on a Food Tour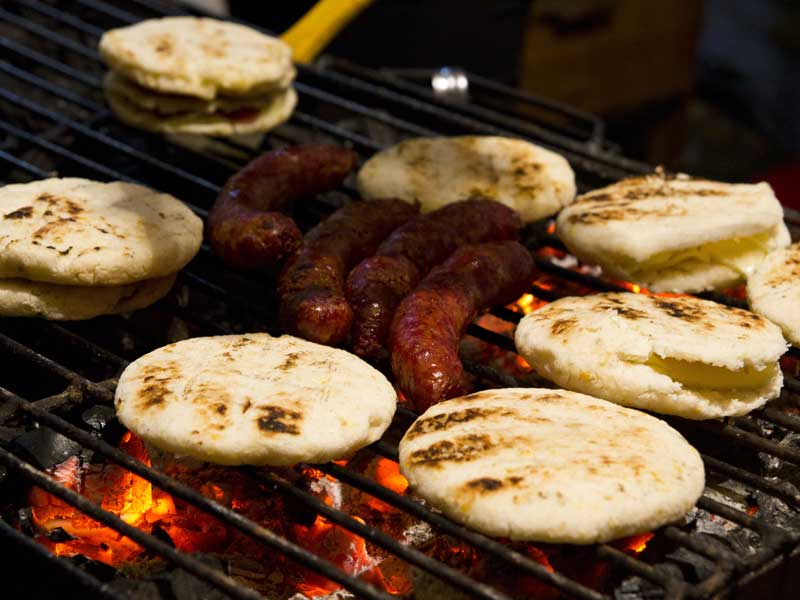 Bogota is known as the gastronomic capital. It offers the opportunity to enjoy the flavors of Colombian, international and fusion cuisine. It's not a surprise then that Bogota is one of Latin America's major emerging culinary hotspots.
It's a city that makes foodies fall in love. In Bogota, you can find from street food stalls to high-end restaurants.
That's why Netflix has included the city in the new series "Street Food Latin America".
If you are a local market lover, you should include a visit to the city's most important "Plazas de Mercado". You will be amazed by the variety of fruits and vegetables that we have in Colombia.
But, if you are one of those that prefer joining an organized tour, Bogota offers different gastronomic tours on a daily basis.
You can find some of the city's most popular food tours like Bogota gastronomic wonders tour or La Macarena gourmet tour in Bogota.
8. Visit the Virgilio Barco Public Library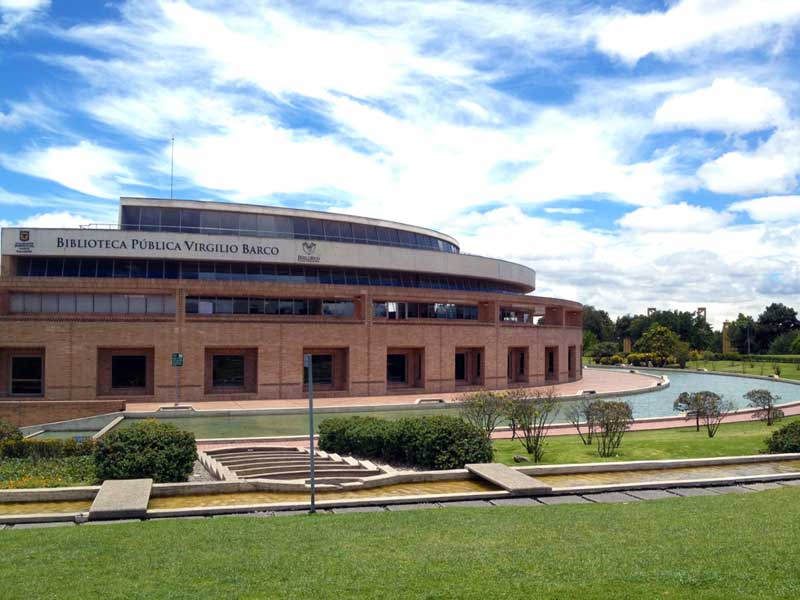 The Virgilio Barco public library was Inaugurated in 2001 as part of Bogota's Capital Network of Public Libraries.
It is one of the most notorious works of architect Rogelio Salmona. He is considered the best Colombian architect of the 20th century and one of the most prominent in Latin America. He is known for his brick architecture and the conscious use of water.
This library is an important social and cultural development center. It is a peaceful area surrounded by parks and leisure complexes.
You can visit the buildings and open areas any day of the week.
Website: https://www.biblored.gov.co/bibliotecas/biblioteca-virgilio
Entrance Fee: Free of charge
9. Visit the National Observatory of Colombia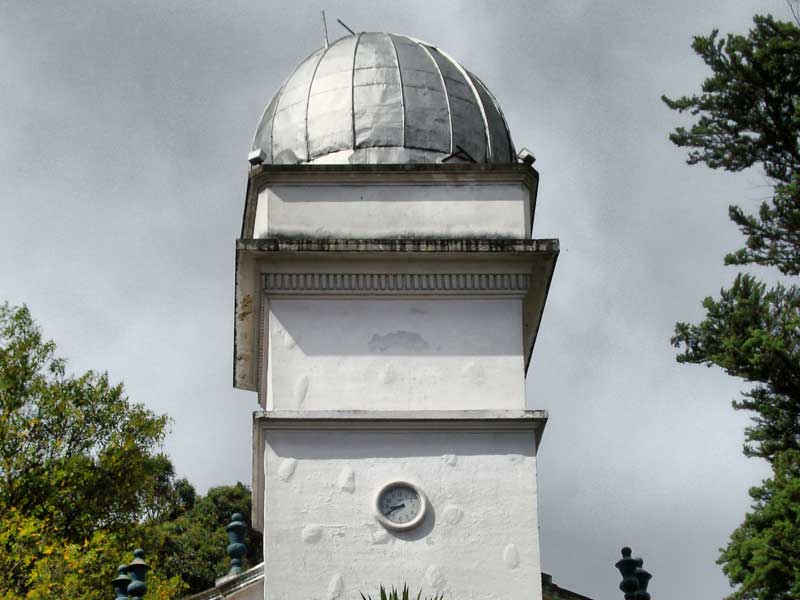 The "OAN" (National Astronomical Observatory of Colombia) was founded in 1803. It was the first outer space observatory in the Western Hemisphere. It was also Colombia's tallest building until the construction of the Primatial Cathedral of Bogotá in 1823.
Today, the OAN is still in operation. It is currently managed by the Faculty of Science of the National University of Colombia.
It marks the zero point of the longitude and latitude of Bogotá and Colombia. It is located at an intersection of two eights (the avenue and the street).
Visits to the historical buildings are only scheduled for Tuesdays and Friday. You should make an appointment in advance.
Website: http://ciencias.bogota.unal.edu.co/departamentos/observatorio-astronomico-nacional/el-observatorio/
Entrance fee: $4.500 COP (1.2 USD)
10. L' Aldea Nicho Cultural
L' Aldea Nicho Cultural is a multifunctional space that promotes human and social development through art, music and food.
As it is mentioned on their website
"We are not a bar, nor a restaurant, nor a concert hall; neither are we a house, nor a theater, nor a workshop; We are La Aldea Nicho Cultural. Here you will find delicious food, variety in concerts, diversity in the theater. You will feel at home, you will have our workshops and you will find a great track to land your dreams."
Tune your ears and watch the following video about L 'Aldea:
Website: https://laaldeanichocultural.wordpress.com
Entrance Fee: Depends on the event. Normally is free of charge
11. Make a BBQ at "Parque de los Novios"
Parque El Lago (Lake Park), is also known as Parque de los Novios (boyfriends-girlfriends park). It is located on Avenida Calle 63 with Carrera 45 and it is accessible through the Transmilenio system.
It is part of the Simon Bolivar Metropolitan complex and has an area of over ​​23 hectares.
The park hosts several small festivals and events throughout the year. It has 19 kiosks for barbecue and picnic activities. It also offers boat and kayak rentals.
Website: https://www.idrd.gov.co/parque-lago-parque-los-novios
Entrance Fee: Free of charge
12. Visit the National University of Colombia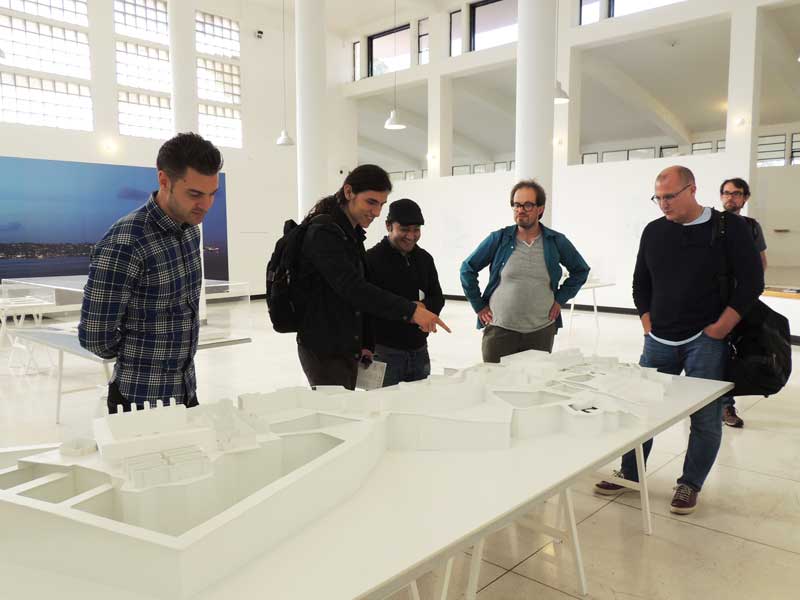 The National University of Colombia or Universidad Nacional de Colombia (UNAL) is the most renowned public higher education institution in Colombia.
UNAL is among the top 3 universities in Colombia. It is famous for its education quality in the following disciplines: Arts and Humanities, Engineering and Technology, Social Sciences and Management.
It was founded in 1867. It was one of the first universities in Latin America to adopt the "Campus" concept.
Its campus is located in the heart of Bogota, it is easily accessible through the Transmilenio system.
The university represents an urban, architectural, historical and cultural heritage of the city and the nation. 17 of its campus buildings throughout the country are listed as national monuments.
For instance, the Engineering School Rother and Violi) makes evident the influence of Bauhaus movement. Today´s Architecture Museum (Rother, 1948) was originally designed for the University´s printing house. And, Sociology School and Human Sciences Graduated Building was designed by the famous architect Rogelio Salmona in 1999.
UNAL is also home to the León de Greiff Auditorium, which is also considered a National Monument and it is home to the Bogota Philharmonic.
The National University of Colombia is a university for everyone and has a wide range of offers, courses, activities and services for all audiences. Don't miss the opportunity to visit its campus.
Website: http://bogota.unal.edu.co
Entrance Fee: Free of charge
At Learn More Than Spanish, we really do believe it is important that you also learn about the culture while improving your Spanish.
As a student, you will have access to our year-round calendar of activities and events planned by our staff including a Grafitti, Quinta de Bolivar and Coffee Tasting Tours.
Know of any other tours and activities to do in Bogota while learning Spanish? Let us know your favorites in the comments!
https://learnmorethanspanish.com/wp-content/uploads/2020/09/love-bogota-jardin-botanico.jpg
600
800
Jennifer Gonzalez
https://learnmorethanspanish.com/wp-content/uploads/2018/11/spanish-school-colombia-logo.png
Jennifer Gonzalez
2020-09-18 20:46:29
2021-05-21 14:49:38
12 unique things to do in Bogota while you are learning Spanish