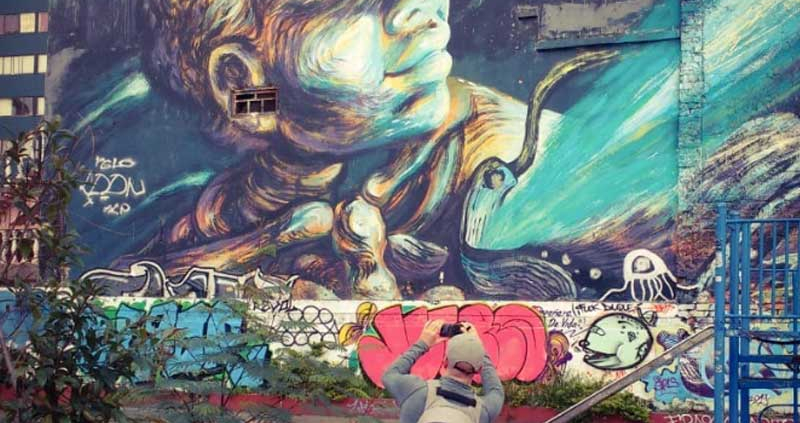 Colombia increasingly appears in the world travelers' lists of countries to visit. People dream about Caribbean beaches, Andes mountains ranges and small colonial towns. But its capital, Bogota, often remains behind the scenes.
When people travel they tend to avoid big and crowded cities, which is totally understandable. However, exploring and living in big cities is also fun and very interesting.
Bogota for instance is a city full of surprises. It is described by The New York Times as a "Beautiful, complicated city; an essential place to visit to understand the country". If you want to understand Colombia, you should spend some time in Bogota, you will be greatly surprised by its authenticity.
You will fall in love with Bogota in a heartbeat. And here is why:
5 reasons to love Bogota:
1. Bogota is the best Colombian city for Art, Music & Culture
Theater
Bogota hosts the world's biggest theater festival, Festival Iberoamericano de Teatro.
The Festival is enormous and has earned Bogota the nickname 'World Capital of Theater' within the industry.
There are more than 800 national and international performances across more than 100 venues and spaces.
Fashion, art and design
Bogota is a hub for fashion, art and design. The city's cultural calendar is filled all year round with festivals, events, parades, exhibitions, concerts and cultural sites.
You can enjoy some of the best Latin American music festivals such as Estereo Picnic and Rock al Parque; world-class art exhibitions such as ARTBO; and local design fairs such as Buró.
Music
Colombia is well known worldwide for its Music. But when we talk about music we don't just talk about Salsa, we talk about Vallenato, Cumbia, Champeta, Currulao, Bambuco, and many other music genres.
Every region of Colombia has its own rhythm. You can spend months traveling around the country to learn about these rhythms, or you can spend some time in Bogota.
In Bogota, you will find all kinds of music from Colombia and the best world music.
Museums
There are many nice museums around the world but Bogota has The Gold Museum. It is unique, it contains the largest collection of gold artifacts in the world.
It displays a large collection of pieces that testify the life and thought of the different societies which lived in Colombia before the Spanish conquest of the Americas.
Street Art
Bogota has been a mecca for street artists since graffiti was decriminalized in 2011. The city is known worldwide for its street art.
The city showcases some of the best work from local and international artists.
There is even a District dedicated to street art, "Distrito Graffiti", in the Puente Aranda neighborhood. It's an industrial area that has turned into Bogotá's own Wynwood.
Books
If you love books, then this is another reason to love Bogota.
The city has one of the highest concentrations of libraries in Latin America. That's why it's known as "The Athens of South America".
Also, every year Bogota hosts the International Book Fair (FILBO), one of the most important cultural events of Colombia.
Flea Markets
How would Bogota be on Sundays and National holidays without the Usaquen flea market?
The "mercado de las pulgas de Usaquen", as we call it in Colombian Spanish, is located in the charming area of Usaquen. You can find all kinds of food, handicrafts, and street performances.
Emeralds
Bogotá has its own emeralds district. It is located in the heart of the city, on Jimenez Avenue between 6th and 7th street.
Colombia provides more than 90% of the global demand for high-quality emeralds. All emeralds come from the mines straight here to make their debut in the emerald market.
2. Bogota is the best city for foodies, coffee lovers and beer lovers
Bogota offers hundreds of mouthwatering culinary, coffee and beer experiences.
Culinary experiences
From high-end local and international restaurants in the Zona G, Zona T, Usaquén and Parque de la 93, to traditional markets such as Paloquemao and La Perseverancia.
Street Food
Lots of street food!
You will find Ensalada de frutas, salpicón, obleas, pinchos, mazorca, mango biche, churros, empanadas, arepas and many others.
Avocados
Who doesn't love avocados?
Avocados in Colombia are big and cheap. In Bogota, you will find men and women selling avocados all around the city.
They are walking around with their wood trolley, or just parked in different corners of the city.
In Bogota, you will always find avocados nearby!
Coffee
And, how about coffee?
Colombia is also known worldwide for its delicious and high-quality coffee. Colombia has several coffee origins, each of them with specific characteristics.
Bogota, the country's capital city, is the place you can find all kinds of coffee. Bogotanos love meeting up for coffee, there are so many nice and trendy cafés around the city
Beer
Although Bogota is not the most renowned city worldwide with regards to beer, there are very cool independent breweries. The most popular is Bogota Beer Company (BBC).
There are BBC pubs all around the city, you should definitely visit them. It's a place where locals normally hang out. So, it's the perfect place to meet new friends and to practice your Spanish.
3. Bogota is full of parks, nature and outdoors activities
Yes, one of the things everyone loves about Bogota is the number of outdoor activities you can do within the city and in its surrounding areas.
Simon Bolivar Metropolitan Park
Bogota's metropolitan park, Simon Bolivar, is located just in the heart of the city.s slightly larger than New York's Central Park and it's a perfect place to go if you love to exercise.
It has a huge lake surrounded by grass and trees. On the weekends if full of people enjoying the time with family and friends.
Also, it is one of the main locations for festivals and concerts.
Los Cerros Orientales
Bogota's mountains are stunning! They are not only a beautiful background but they are also excellent for orientation.
It's important you always look at the mountains, or "cerros orientales", to have a good sense of orientation in the city.
Check also our post: Bogota: A guide for getting around in the city.
Palm Trees
Have you ever thought that it's possible to find palm trees in a city located in the middle of the Andes, where the altitude is 2,600m?
Well, it's possible. That city is Bogota!
When you are walking around Calle 57, you will find beautiful palm trees along the streets with the beautiful Andes in the background.
These are things that amaze people when visiting and walking around Bogota. There is always something that will surprise you.
Hiking & Climbing
A city located in the middle of the Andes also offers amazing hikes for its residents and tourists.
If you like hiking, there are plenty of options.
You can go to La Chorrera, to Quebrada La vieja, or to the Sumapaz Paramo.
If you like hiking and climbing then you can visit Suesca. It's a little town located just 1.5 hr from Bogota.
Ciclovía
Bogota is also known for its iconic "ciclovia" or bikeway. Ciclovia is either a permanent bike path or the closing of certain streets to automobiles for cyclists and pedestrians.
More than 120 kilometers of roads are turned into a cycle lane from 7 a.m. to 2 p.m. every Sunday and holidays.
All kinds of transportation are welcome —bicycles, roller skates, scooters, wheelchairs, skateboards— as long as they are not motor-driven.
4. Bogota has a unique architecture style
At first, Bogota's architecture style might not be easy to define. But if you look closely, Bogota is a city of unique architecture among Latin American countries.
Bogota is known for its red brick buildings designed by architects who mingled their modernism with the colonial beauty.
One of the most influential architects is Rogelio Salmona. He gave an identity to the city. His use of red bricks and water as a connecting element revolutionized the aesthetics of the city.
Salmona's work includes Torres del Parque, The Cultural Centre Gabriel García Márquez and the Museum of Modern Art of Bogotá.
What is even more interesting is that Bogota's architecture has also English, Italian, French and Spanish influences.
You can walk around beautiful and preserved colonial districts like the Candelaria and Usaquen Districts. Or, walking around districts like Teusaquillo that resembles England's rural architecture.
Bogota offers a photogenic fusion of past and present.
5. Bogota is the best place to learn Spanish
It might sound like a cliché but Colombian Spanish is considered one of the best Spanish in the world.
Although it's impossible -also it isn't fair- to affirm that there is one "best" Spanish language. It's true that Colombian Spanish is one of the Spanish learners' favorites.
Let's start by clarifying that there is no such thing as a standard "Colombian Spanish".
Like in any other language, there are many dialects within the country. However, for a matter of practicality, when people say "Colombian Spanish" they normally refer to the dialect spoken in Bogotá. Bogota's dialect is known for being more polite, neutral and clear.
Why is Bogota the best place to learn Spanish?
In Bogota people speak slow and paused, which makes it easy to understand for new learners.
People pronounce almost all vowels and consonants in every word. That is why people say it is one of the "clearest".
People tend to use traditional Spanish words whenever possible. Although there is not a problem borrowing words for new concepts. That is why people say it's one of the "cleanest"
People find the accent itself very attractive. It has a slightly singing-tone that even native Spanish speakers from other countries love.
Bogota really does have it all. It's a city that at first might not attract you because of its size, but it is a city that will surprise you every single day.
Come visit and learn Spanish with us!

https://learnmorethanspanish.com/wp-content/uploads/2020/09/5-reasons-love-bogota.jpg
600
800
Jennifer Gonzalez
https://learnmorethanspanish.com/wp-content/uploads/2018/11/spanish-school-colombia-logo.png
Jennifer Gonzalez
2020-09-22 20:02:33
2021-05-27 18:23:17
5 Reasons to love Bogota