Why should you learn Spanish in 2021? Our top 5 reasons!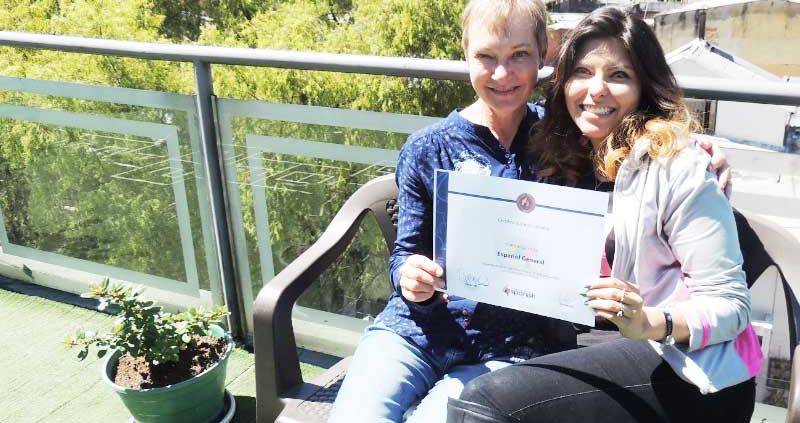 Of all the languages you can learn, Spanish is one of the best and more useful.
Why?
Because it is not only a beautiful language, it's a language that opens up many opportunities for you.
It opens doors whether you want to work, travel or live abroad.
Or, even if you decide to learn Spanish while you are home, it will bring great benefits for your brain and mental health.
If you are still thinking about learning Spanish…stop thinking!
Start as soon as you can!
In this post, we will give you 5 reasons why to learn Spanish
1. You will make more friends and connect with more people
Spanish speakers are known for being friendly and easy to connect with.
If you speak Spanish you won't only have the opportunity to meet beautiful people during your travels but you will have lifelong friends.
According to the Instituto Cervantes, more than 580 million people around the world speak the Spanish language. This includes native speakers (483 million) and non-native speakers (97 million).
Spanish is the second more spoken language in the world after mandarin. See the bubble chart below of languages by the proportion of native speakers worldwide:
Where do you think all these people are?
They are not only living in Spain and Latin America, but they are also all around the world.
Even if you are traveling around non-Spanish speaking countries you will meet many Spanish speakers (believe us!).
For instance, did you know that there are more Spanish speakers in the United States than in Spain?
More than 13% of the US population (over 43 million people) speaks Spanish as a first language.
This makes it the second-largest Spanish-speaking country in the world after Mexico, Spain and Colombia.
Additionally, the United States is home to nearly 12 million bilingual Spanish speakers.
2. You will learn about new cultures
Apart from meeting new people, learning the Spanish language will help you to understand other cultures better.
Are you one of those passionate about world cultures?
If so, you would know that's nothing better than being able to speak with locals in their own language.
It is difficult -and very unlikely- to learn all the languages of the countries you visit. But, it is easier to learn a language that you can use in most of the countries you visit.
That's one of the greatest advantages of learning Spanish. You can travel to more than 20 countries and learn about their culture.
Why would you want to learn about a Spanish language culture?
Because:
Your partner is from a Spanish-speaking country and you want to understand her or his culture better. Or, you want to interact more with her or his family.
You plan to retire abroad to a Spanish-speaking country.
You want to interact more with friends, colleagues or neighbors who speak Spanish.
You are interested in history, geography and world cultures. You want to travel to a Spanish-speaking country and get to know the culture.
Whatever the reason is, learning Spanish will give you the chance to connect more deeply with others. Also, your travel experiences will be enhanced.
3. You can have access to a variety of academic programs, do more business and get better jobs
If your main goal for learning a new language is more academic and professional related, then Spanish is also a great language to learn.
Why?
You will have a wide range of academic opportunities!
In Spain and Latin America, there are excellent universities. They offer high-quality Bachelor, Masters and PhD programs.
Your CV would look better if you have an academic experience abroad. But, it would also look good by being bilingual.
With regard to employment, learning Spanish would also be a great advantage for you.
In today's global marketplace, knowledge of a second language is a valuable asset for employers and employees alike.
Spanish language in particular will make you more competitive in the workplace. Many companies do businesses with Spain and Latin American countries.
Employees usually look for bilingual people; people that not only speak the language but who understand their culture.
Bilingual means feeling comfortable and productive.
Monster, one biggest player in the recruiting industry published an article saying:
"According to the January 2005 Korn/Ferry International Executive Recruiter Index, 88 percent of executive recruiters say the ability to speak more than one language is critical to international business success. Seventy-nine percent of North American recruiters cited Spanish as the additional language most in demand by employers. French was next at 43 percent, followed by Mandarin Chinese (30 percent)."
Birmingham notes that an employee who can navigate a foreign environment with ease will probably be both happier and more productive than one who cannot. From a business standpoint, speaking another person's native language helps win trust.
Global companies look at people who have global skills," Birmingham says. "And the ability to speak other languages, especially Spanish, is a global skill."
Lastly, if you learn Spanish you will have more opportunities to apply for a job abroad.
4. You will exercise your brain
Educators often say the brain is a muscle, and as a such, it functions better with exercise.
Learning a language involves memorizing rules and vocabulary. Thus, it helps strengthen that mental "muscle."
Scientific studies have found that the brains of bilingual people operate differently than single language speakers. These differences offer several mental benefits.
Many studies show that:
Learning a second language can help to delay the onset of Alzheimer's Disease. It also can postpone dementia symptoms.
Bilingual people are better at problem-solving activities than monolingual people.
Speaking a foreign language improves the functionality of your brain. It challenges your brain to recognize, negotiate meaning, and communicate in different languages.
Learning a second language boosts your ability to negotiate.
Once you learn a second language, you will easily learn other languages. For instance, Italian, French or Portuguese.
Learning a foreign language helps keep your memory sharp.
When you learn a foreign language you become more perceptive. Bilingual people are better at observing their surroundings. They are more adept at focusing on relevant information and editing out the irrelevant.
Learning a foreign language helps you improve your decision-making skills.
Bilingual people are better at multitasking.
5. You will have access to more diverse entertainment options
By learning Spanish you will have more access to a wide range of entertainment options.
It will open up a whole world for you!
You can read great works of literature, watch Spanish language films, and enjoy lots of Spanish and Latin American music.
There are so many interesting talks and learning materials that are hard to find in some languages. But fortunately, these materials are always available in Spanish.
Once you start looking you will find many podcasts, audiobooks and news in Spanish. There is also plenty of music, sports and other entertainment options in Spanish.
Spanish is a language that is gaining popularity during the last decades. Its popularity doesn't show signs of slowing down. According to experts, By 2050, 10% of the world population will be speaking Spanish.
You can start learning Spanish and practicing at home. There are so many tools, materials and online classes you can sign up to.
What are you waiting to start learning Spanish?

https://learnmorethanspanish.com/wp-content/uploads/2020/09/why-learn-spanish-2021.jpg
600
800
Jennifer Gonzalez
https://learnmorethanspanish.com/wp-content/uploads/2018/11/spanish-school-colombia-logo.png
Jennifer Gonzalez
2020-09-28 21:46:42
2021-05-27 18:38:34
Why should you learn Spanish in 2021? Our top 5 reasons!