Tips for choosing accommodation in Bogota when you are a new student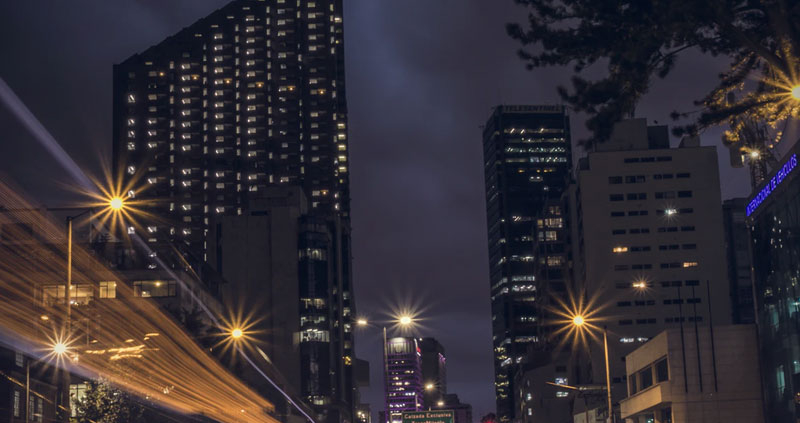 Choosing the best accommodation in Bogota is as important as choosing the best Spanish school. It will impact positively – or negatively- your learning Spanish experience.
Thus, finding the right accommodation is one of the things you should definitely invest some time in. It doesn't matter if you are staying in Bogota for a week, for a month, or for a year.
For Bogota's first time visitors, it might be difficult choosing the best place to stay. A giant and cosmopolitan city as Bogota has all kinds of accommodations.
You will have plenty of options, from budget-friendly hostels to fancy modern apartments.
So, finding your ideal accommodation wouldn't be a problem.
But, how to start?
Since you might not be familiar with the dynamics of the city and the different districts we have prepared this guide for you.
We will be looking at three aspects:
Factors to take into account when choosing accommodation in Bogota
Areas or Districts
Types accommodations
Are you ready?
¡Empecemos! (Let 's start!)
1. Important factors to take into account when choosing accommodation in Bogota
Budget
Of course, this is the first aspect we should look at.
For Latinamerican standards, Bogota is a moderately expensive city to live in. At the moment, our currency is very weak, which makes Bogota an affordable city compared to any North American or European cities.
But like any other capital city, you can find outstanding but expensive options. So, first, look at your budget and the length of your stay. Then you can decide what kind of accommodation suits you better.
To give you a quick idea, the average monthly cost for a single person living in Bogota is about $500 – $800 USD per month, excluding the Spanish program fees.
Proximity to the Spanish School
As you can imagine, a city of nine-million inhabitants might be quite chaotic in terms of mobility and transportation.
That's why it's very important you consider getting a place to stay near to your Spanish school. By "near" we mean walking distance or 30 minutes by car or public transport.
Believe us, you don't want to get trapped in Bogota's traffic for hours!
For instance, our Spanish school is located in the Chapinero district. It is located just in the heart of the city, a very convenient location for you to explore the cultural diversity the city has to offer.
There are plenty of options in this district. We highly recommend it. But, if you prefer to stay in a different district read our post on how to get around the city.
Proximity to friends
If you are not new in the city and have already established a good group of friends is totally understandable that you want to stay closer to them -or with them.
In that case, try to find a middle point between your friends and the Spanish school. It will save you many hours of traffic and stress.
Ask your friends or better yet, ask our team. They will surely help you find the best accommodation for you.
Proximity to attractions
If you are a Bogota's new visitor, then you probably would like to explore the main city attractions.
In that case, try to evaluate how often you want to visit them. And then, decide if it's worth it to stay closer to the main attractions of if it's better to organize day trips to visit them.
As you can see on the map below from Tripadvisor, most of the tourist attractions are located in the city center.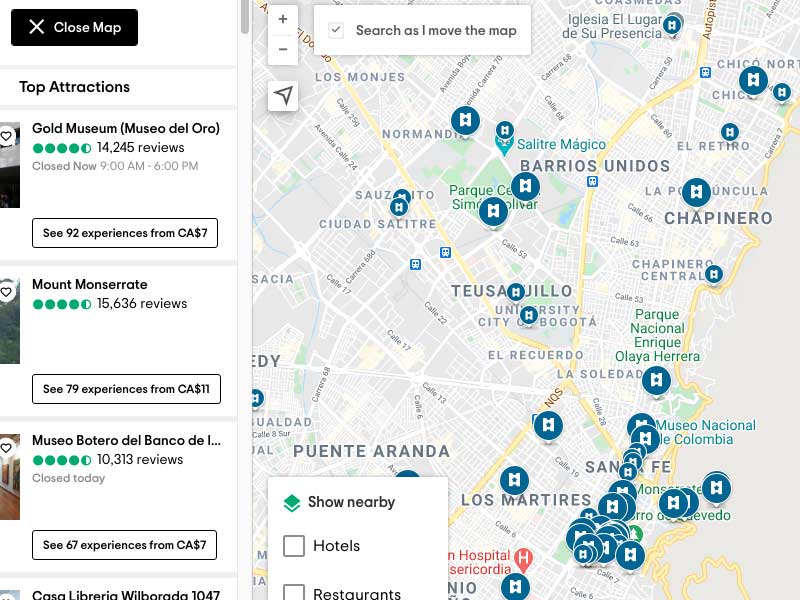 So, to give you an idea, in normal conditions:
It will take about 30-40minutes From Chapinero to the City Center by car (taxi or uber)
It will take about 20-30minutes From Teusaquillo to the City Center by car (taxi or uber)
It will take about 45-60minutes From Usaquen to the City Center by car (taxi or uber)
Easy transportation access
One last thing you should definitely look at is access to public transport.
If you are staying in Bogota for only a week or two, it might not be necessary. But, if you are planning to live in Bogota for a few months you should learn how to move around the city with public transport.
Sometimes it's faster to walk or to take public transport than taking a taxi or an Uber. So, check out the TransMilenio map below and try to look for your accommodation accordingly.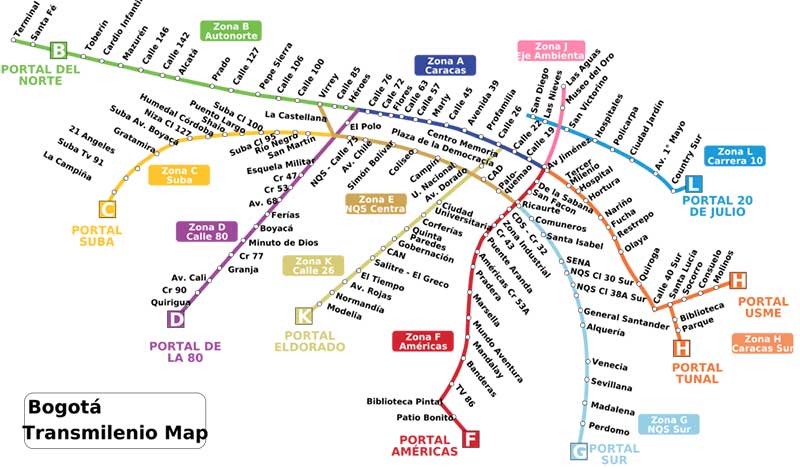 2. Where to Stay in Bogota: The Best Districts
In our previous post, we mentioned the districts of Bogota you will more likely be living in or hanging around.
Thus, it makes sense that you look for accommodation in any of those districts: La Candelaria, Chapinero, Teusaquillo, and Usaquen.
Let's look at those districts on the map!
It will get you a better idea of how the city is organized.
La Candelaria
La Candelaria is also known as "El Centro Histórico (Old City). It has a unique Spanish Colonial, Baroque and Art Deco style. It is one of the most popular districts for students to live in.
It's right in the city's downtown, it's budget-friendly, and it has an immense cultural offer. You will find a wide variety of cafés and restaurants, museums, and libraries. La Candelaria hosts some of the Top Colombian universities.
Chapinero
Chapinero is one of the more affluent and diverse districts of the city.
It hosts the Central Business District and several important leisure, dining and nightlife areas of the city.
In Chapinero you will find dozens of local cafes, markets, and microbreweries as well as the largest LGBTQ+ nightclub in South America.
Teusaquillo
Teusaquillo is located in the geographic center of the city. It's one of the favorite places to stay in Bogota due to its proximity to the airport, city center and other trendy districts.
It is home to the biggest park in Bogota (Simón Bolivar Park), the campus of the National University of Colombia, and the convention center Corferias. It is also known for having the best street art in the city.
Usaquén
Usaquen used to be its own small town until it was incorporated in the 1950s to become part of Bogota.
It's located in the north of the city and it is considered as one of the city's cutest districts.
Usaquen has also an immense cultural offer. It is rich in gastronomy, boutiques, bakeries and pubs. On Sundays and National holidays, it hosts Colombia's most famous flea market.
3. Types of accommodation in Bogota
Now that you are more familiar with the most popular districts in Bogota, we can look at the types of accommodation.
If you are going to study Spanish in Bogota for only a couple of weeks it makes sense for you to choose a hotel, hostel or Airbnb. But, if you are planning to study for a longer period of time you can choose between a shared or a private apartment.
Hotels, Hostels & Airbnb
It all depends on your budget and preferences.
For example, if you prefer a private room and a quiet environment, a hotel or hotel boutique would be a good option for you. You can find budget-friendly hotel rooms for 60USD per night to luxury hotel rooms for 150 USD per night.
If you want to meet other travelers and students, a hostel would be a good option for you. If you stay in a hostel you can choose dorms or private rooms. There are many trendy hostels in the city, they are well located, well designed and offer a wide variety of activities. This would be a good option if you are traveling alone and want to meet new people.
If, on the contrary, you prefer your own space. You can rent a modern studio in any of the most trendy districts of the city via Airbnb. Prices also vary depending on the exact location and the size of the apartment. You can find one-bedroom studios for 60USD per night up to 150 USD per night.
If you want to get a better idea of how hotels, hostels and short-term apartments look like in Bogota you can check the following websites:
Shared & Private Accommodation
On the other hand, if your plan is to live in Bogota for at least three months it makes much more sense to find a shared or private accommodation.
We highly recommend to stay at first in a short-term accommodation, get to know the city and the different districts. Also, get to know some people and then decide where you would like to live your Spanish immersion experience.
Bogota short term rentals is a very useful Facebook group. You can take a look and contact the landlords directly.
With regards to prices, you can find a one-bedroom apartment for $300 – $500USD per month, or a private bedroom in a shared apartment $200USD per month.
Keep in mind that if you are renting a place long-term you would need to pay utilities separately. It would be about 100USD per month if you rent the whole place for yourself, or about $40 USD if you are sharing the place with someone else.
Did you find this article useful?
Share it with your friends and let us know your comments. Also, don't forget to follow our social media and weekly Blog.

https://learnmorethanspanish.com/wp-content/uploads/2020/09/tips-choosing-accommodation-bogota-new-student.jpg
600
800
Jennifer Gonzalez
https://learnmorethanspanish.com/wp-content/uploads/2018/11/spanish-school-colombia-logo.png
Jennifer Gonzalez
2020-09-15 11:27:45
2021-05-27 18:37:07
Tips for choosing accommodation in Bogota when you are a new student