7 reasons why you should travel to Colombia right now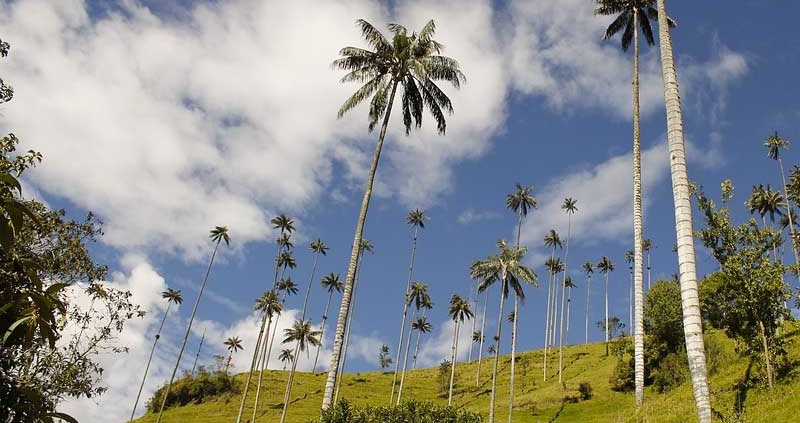 Colombia, that magnificent piece of land located in the top north of South America, is usually nicknamed the "gateway to South America."
A magical country. No wonder Disney decided to showcase its magic in one of its latest films, which just won an Oscar.
Encanto, is a movie that beautifully portrays the best of our culture, food, and landscapes.
Have you always dreamt of visiting Colombia? If you haven't been that lucky yet, start planning that dream trip now, and come to visit us this year!
If you have already visited Colombia, we are sure this is one of those places you always want to come back to! So, start planning your next visit!
If you are still considering whether to visit Colombia this year or not, read this article and find out why you should come to visit!
7 reasons why you should travel to Colombia in 2022
1. Colombians and Colombian Culture
We often hear people saying they like Colombians or they like Colombian Culture. And we don't blame them; Colombian culture is fascinating! Once you get in touch with our culture, you will fall in love, and there is no way back.
Colombia's cultural diversity has resulted from the country's location and influences from several cultures over the years.
Colombians are a fascinating blend of people and cultures. Colombians reflect the mix between Spanish, African, Arabs, and indigenous cultures and traits.
Each region in Colombia has its traditions, unique customs, and accent.
There is plenty of music, food, and a variety of people wherever you go.
Colombia is said to be the most welcoming place on Earth. The warmth and kindness of our people are beyond imagination.
Check out this video to learn more about why we say this
That is why more people choose Colombia to be the place where they learn Spanish every day.
There is no better way of experiencing a country than talking to its people!
2. Colombian Coffee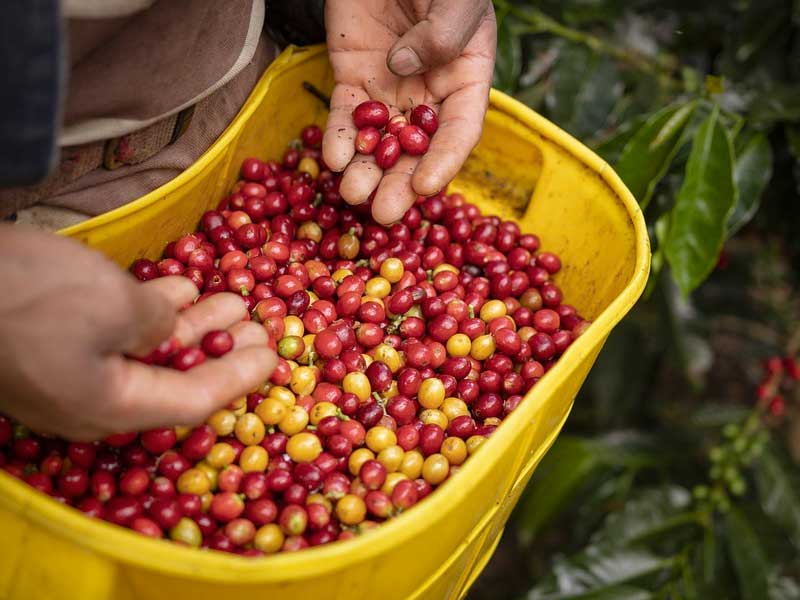 Colombian coffee is considered some of the best single-origin coffee in the world.
Our country enjoys ideal growing conditions for coffee. We are proud to say we have the perfect combination of an excellent climate, rich soil, and just the exact mix of rainfall and sunlight.
All this together helps grow one of the best coffee beans in the world.
We get coffee cups with unique flavors and high-quality production methods with these beans.
Some tasters have described Colombian coffee as follows:
"Mild and well-balanced with a medium, silky body and a clean-ness in the cup. Acidity levels are medium to high, yielding a bright and lively brew"

"Coffee with floral hints, traces of tropical fruits, red berries or apples and a sweetness akin to chocolate, sugar cane or caramel. Aromas tend towards citrus, fruits, and hints of spice"

"Colombian coffee is known for being sweet (think caramel or raw sugar) with a good body".

"Coffee from Colombia goes far beyond that simple description. You'll find chocolatey coffees, fruity ones, nutty ones, and every combination of flavors you can imagine. You'll find bright coffees and smooth ones. Your coffee may have a heavy body or seem tea-like."
Spanish Grammar Tip
You will hear "tinto" when you visit Colombia instead of "café". It's just the way we have named "black coffee."
You will be offered coffee everywhere, all day long. Tune your ears for:
" ¿Quieres un tinto?"
"¿Le provoca un tintico?"
Would you like a little coffee?
And if you want to order some, which we know you will, you can say:
Me regala un tinto por favor.
Can I get coffee, please?
Remember to always finish that request with "por favor" and a smile! Colombians really appreciate politeness.
3. Music, carnivals & dance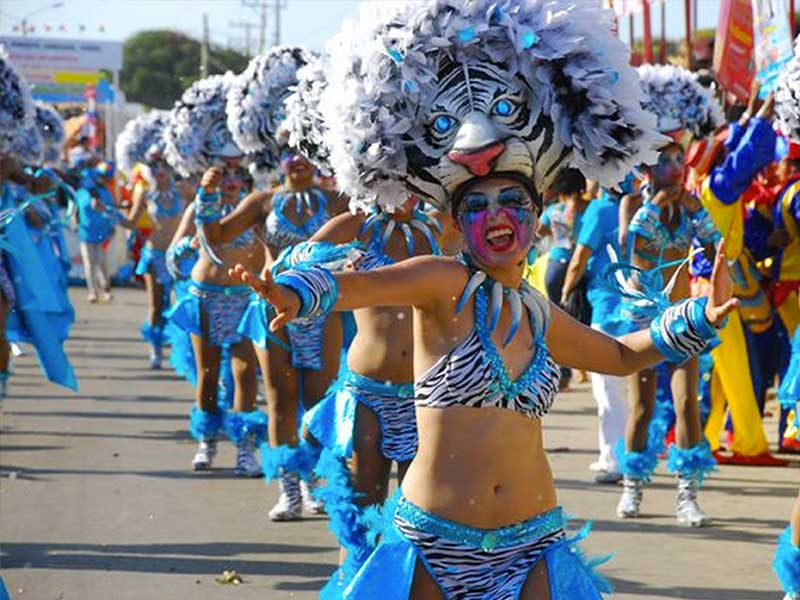 Did you know that Colombia is also known as "the Land of the thousand rhythms"?
There are more than 1,025 folk rhythms grouped into 157 different genres.
It would be difficult to imagine Colombia without music, colors, and dance. Wouldn't it?
In Colombia, music is a passion, a sensory experience. As we usually say, music runs in our blood -"Llevamos la música en la sangre"-
And, yes, it is literally in our blood!
Our music is the result of the blend of Spanish and European influences with indigenous sounds and African beats.
In Colombia, we don't just hear the music; we feel it and live it.
Our passion for music and our love for dancing are things people like the most about Colombians.
"Music is an important part of Colombian culture. It is a way of expressing emotions, sharing discomfort, or showing love to friends and family. It is a way of showing their pride for their roots and a way of living in the moment."
Colombian music has a rich and diverse cultural heritage. Every part of Colombia moves to a different sound; each region has its rhythms, carnival, parade, or local fiesta.
4. Best eco-driven and community-based initiatives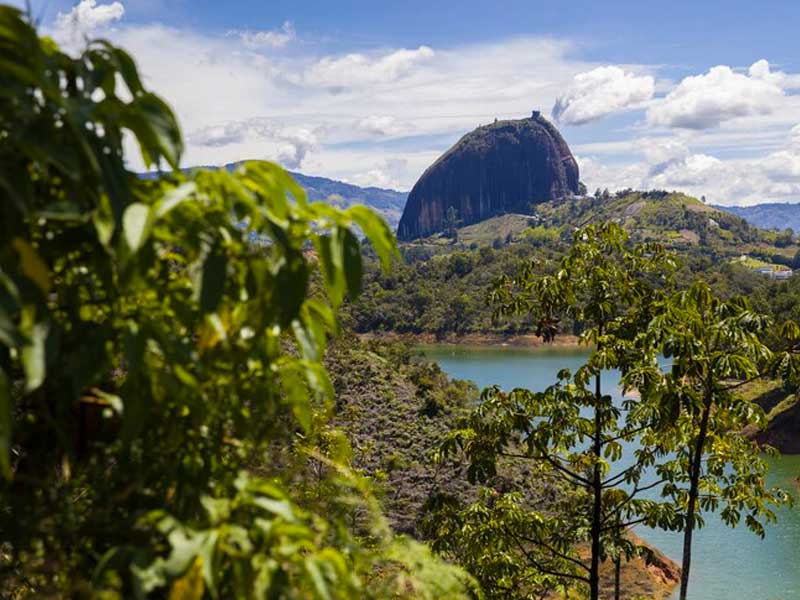 Colombia has a lot to be proud of and a lot to protect! From both an ecological and cultural point of view.
Tourism in Colombia has increased significantly after tough times due to internal conflict and the drug war. We can't deny that Colombia still experiences some safety issues, mainly in the big metropolis, but it is nothing compared to what we experienced back in the 80s and 90s.
You can travel freely and safely around the country. Just watch out for your belongings and "No des Papaya" (Learn this common Colombian expression!)
Colombia has 27 tourist destinations certified as sustainable by the Ministry of Trade, Industry, and Tourism. This official designation indicates that a locale has developed environmentally-sustainable tourism infrastructure in a way that generates wealth and opportunity within the respective community.
This institution has also identified some places to take part in responsible tourism. For instance:
Puerto Nariño, in the Amazonas department
Parque Arví, in Medellín city
The island of Gorgona
La Aguada beach, in the Chocó department
Mompox, in the Bolivar Department
Cartagena, in the Bolivar Department
Salento and Finlandia, in the Quindío department
The historical quarter of Villa de Leyva, in the Boyaca department.
Other destinations are going through the certification process, as is the case of:
La Macarena in the Meta department
Girón and Socorro, in the Santander department
La Candelaria, in Bogotá
The historical quarter of Manizales, in the Caldas department.
There's also a growing collection of unique, eco-conscious, and community-based accommodations.
Colombia is part of The Future of Tourism Coalition; an initiative focused on the post-pandemic recovery of the hard-hit tourism sector. A coalition of six non-governmental organizations, including Green Destinations, Tourism Cares, The Travel Foundation, and destinations like Bhutan, Jordan, and Norway.
In terms of community and cultural preservation, Colombia's tourism sector has also included local artisans and indigenous communities in their plans. Whatever you go, you will find handmade souvenirs, jewelry, bags, knitwear, hats, regional music instruments, and decorative pieces for your home.
When you purchase any of these objects, you directly support the work and the way of life of these talented Colombians.
5. Beautiful and fun cities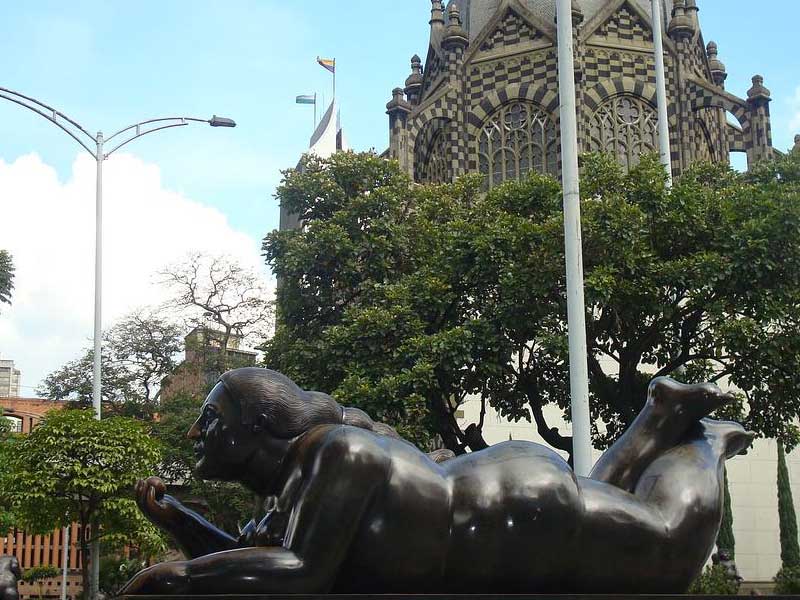 Colombia is also a perfect destination if you are more of a city person. We have beautiful, diverse, and cosmopolitan cities.
Bogotá
Colombia's capital is one of the top cosmopolitan cities in Latin America, along with Sao Paulo, Río de Janeiro, Mexico City, Buenos Aires, and Santiago de Chile.
If you like chilly weather and gloomy skies, you will like this city. It might not be a "summer" city, but it has everything Colombia is in one city.
Trust us! Here you will find everything…!
Any style of art, music, and food. A wide array of cafes and restaurants. Music festivals all year long and numerous museums, galleries, and art performances.
Bogota is a city that doesn't stop. It's big, international, and also busy.
Medellín
Colombia's renaissance city, also known as "the city of the eternal spring" due to its perfect climate, always around 25°C, mostly sunny and warm.
Medellin is also a big city, but not to the same extent as Bogota. It offers an incredible cultural scene and a wide selection of restaurants, cafes, galleries, and museums. It also has beautiful parks, and it is the only city in Colombia with a rapid transit system.
Barranquilla
Barranquilla is the land of Shakira and Sofia Vergara, home of our beloved Colombian Soccer Team, and also home of the most iconic carnival: El Carnaval de Barranquilla.
Barranquilla is located on the Caribbean coast. It is an industrial port that wasn't very well planned and, as a result, not the most aesthetic city in the country. Nevertheless, this city has been booming during the last years; it has included nice and modern architecture in its looks.
People from Barranquilla are one of the most friendly people in the country!
They are easy-going, relaxed, and enjoy music and parties. They are also very talented and business-minded.
One thing you will love about Barranquilla is the food! Their cuisine is delicious thanks to the cultural mix among Spanish, African, and Middle Eastern peoples.
Cali
Known as "La sucursal del cielo", Colombia's capital for salsa, and home to unique events such as Petronio Alvarez and Feria de Cali.
If you like dancing, you can't miss Cali. What a city!
Food is also exceptional in this city, influenced by the Pacific and Central regions. Make sure you try cholado, lulada, aborrajados, shampus, chontaduro and all the typical delicatessen the city offers.
Cartagena
Colombia's tourism capital. A beautiful colonial city located in the Caribbean region. Going to Cartagena is such an experience. Wandering around the Old City is like going back in time. Its architecture is gorgeous and very well preserved.
Cartagena will feel less like a city and more like an open-air museum for many.
Cartagena is one of the top destinations for Colombians and foreigners. You will find plenty of local and high-end restaurants, bars, clubs, street music, and dance performances.
In Cartagena you will get to know one of the most important Colombian rhythms, Champeta!
Colorful & Stunning Heritage Towns
Instead, if you are more of a small-town kind of person, then Colombia is also your dream destination.
¡Believe us!
Colombia's colorful and aesthetic towns are beyond your imagination. There are places you won't find elsewhere in the world. Promise!
Just take a look at these:
Guatapé
Santa Cruz de Mompox
Villa de Leyva
Ráquira
Barichara
Guaduas
Honda
Jardín
San Agustín
Salento
6. Colombian Spanish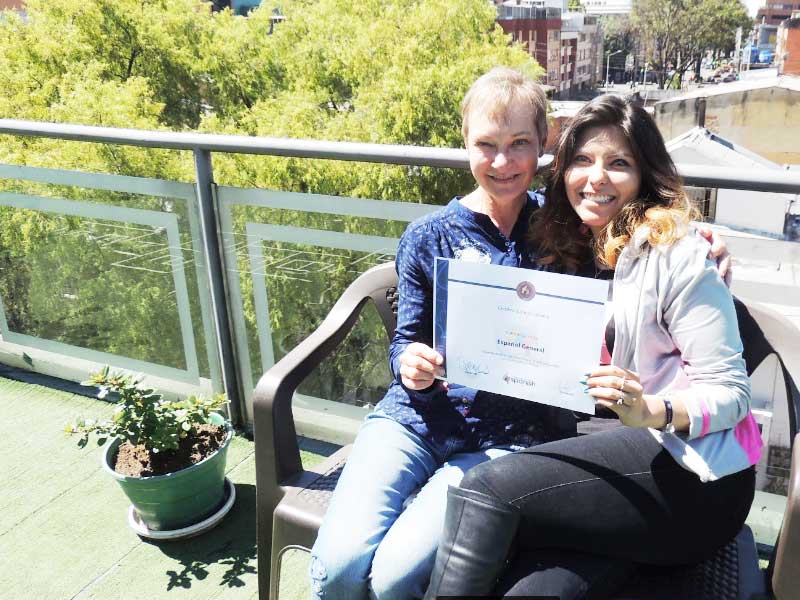 And of course, one of the reasons to visit Colombia this year is to Learn Spanish, more specifically Colombian Spanish.
Although within Colombia, we have a wide range of accents and dialects. When you come to Bogota, you will learn the most neutral variation and one of the easiest to learn and understand.
Although we have an accent, it is not as strong as other variations. You will still enjoy our charming song-like accent, but you will quickly understand as we generally keep the correct use of the language and grammar.
Yes, of course, we have many slang expressions. They are fun and authentic. You will enjoy learning them while visiting Colombia.
You will understand why people fall in love with Colombia once you have the chance to immerse yourself in our culture and talk to Colombians!
As soon as you arrive in Bogota, make sure you join our Spanish classes for a week or two. Or, if you have more time, enroll in the school for a more extended period!
Speaking Spanish will make your experience in Colombia 100% better!
If you want to start learning in advance, you can join our online classes and complement them once you come to Colombia!

Don't forget to follow us on Facebook and Instagram and read our bi-weekly blog to LEARN MORE THAN SPANISH.
We hope to see you in Colombia soon!
https://learnmorethanspanish.com/wp-content/uploads/2022/04/visit-colombia-now.jpg
600
800
Jennifer Gonzalez
https://learnmorethanspanish.com/wp-content/uploads/2018/11/spanish-school-colombia-logo.png
Jennifer Gonzalez
2022-04-01 16:14:06
2022-04-07 18:44:55
7 reasons why you should travel to Colombia right now