Moving to Bogota? Here's what you need to know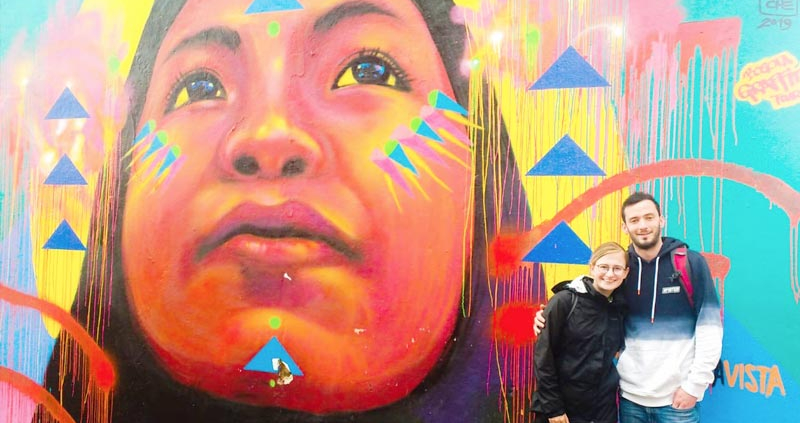 "All that is Gold does not glitter, not all those who wander are lost."
"No todo lo que brilla es oro, ni todo el que anda divagando está perdido."
J.R.R.Tolkien.
This famous quote usually resonates with those who love traveling and exploring and those who go for a life full of adventures.
Moving to any new country is one of the most extraordinary life experiences. Moving to Bogota will be an adventure! Yes, it will bring you some challenges and frustrations but also priceless moments and unique experiences!
We warn you that the culture shock is real, but hey! a cultural shock is not always negative… It's what travelers are looking for!
Culture shock describes the impact of moving from a familiar culture to one that is unfamiliar. It includes the shock of a new environment, meeting lots of new people and learning the ways of a new country.
If you come from a small city or a country where things are structured and organized, it might take some time for you to adapt to Bogota's immensity and fast-paced lifestyle. But we guarantee that if you learn how to minimize the side effects of living in a big metropolis and focus on what a city like Bogota offers, you will have a blast here!
Moving to Bogota?
There are many reasons why people choose Bogota as their new home. Whether to join their Colombian boyfriend or girlfriend who lives here, follow their partner who just got transferred to Bogota's office, start a new job, enroll in a university program, or simply study Spanish and live a new life adventure.
Bogota has the biggest expat community in Colombia. People love the mix of colonial feel with its brick buildings and old cathedrals and the urban cosmopolitan feel with endless cultural and leisure activities.
Bogota has everything you can imagine! Living in Bogota could be the most extraordinary experience of your life but keep in mind that – like every major city in the world- it is a fast-paced city that might bring you headaches from time to time.
For all those interested in relocating to Bogota, here is a list of important factors you should consider to settle in quickly and lessen the effects of culture shock.
Where to live
Bogota's weather
Security
Transportation and mobility
Learn Colombian Spanish
Enjoy Bogota's cultural offer
1. Where to live
With a population of about 8 million inhabitants and an area of 1,775 km², you can imagine the endless housing possibilities you might find.
Our very first advice, and probably the most important, is to "Choose your neighborhood well." This could easily make your experience a wonderful lifetime memory or a nightmare!
When you first arrive in Bogota, it's a good idea to rent a place short-term while you spend some time exploring the different neighborhoods, meeting people, and choosing which area you want to live in.
What should you keep in mind while choosing your neighborhood?
To be close to your work, school, or university. This will save you hours of being stuck in traffic.
To be close to your friends and family.
To be safe. Keep reading; we have a section just for this!
Be close to your favorite leisure places, such as parks, gyms, restaurants, cafes, bookshops, etc. It all depends on your lifestyle and preferences!
Where to look for accommodation and housing in Bogota?
2. Bogota's Weather
When people think of Colombia, they quickly think of the tropics. They imagine warm weather, never-ending summer, and music. It is true, to an extent. Colombia is located in the tropics; there are places with an" always summer" vibe where you can enjoy sunshine almost all year long.
…. That's not the case in the Colombian capital.
Bogota is located in the country's middle, in the Andean mountains, at 2,600 meters above sea level. This means you will have stunning daily views of the "Cerros Orientales," but you will also have to adapt to live at this altitude. It means you will live in a city with an average temperature of 10 °C at night and 18 °C during the daytime with gray and rainy days.
People often say that you can experience all four seasons in Bogota within the same day. It could be sunny and warm (20 °C) in the morning, rainy in the afternoon, and very cold at night. People living in Bogota usually carry sunglasses, an umbrella, and a good rain jacket.
You never know when the weather changes, so better to be prepared!
For Colombians, Bogota is a "cold" city; people even call Bogota "La nevera" (The fridge). Totally understood since many cities enjoy temperatures of 25-30 °C all year long. However, Bogota's weather is just like their regular Spring or Autumn for people from the USA or Europe. They know what the actual "cold" is! And it is exactly why they love living in Bogota!
3. Security in Bogota
We are not going to lie. Bogota is not the safest city in the world, nor the safest city in Colombia. We have had important improvements in this regard, but unfortunately, security remains a complex issue.
We are not proud of this, but if you are aware of it and take prevention measures, it will be fine! Living in Bogota will be the same as living in any other world's capital city.
Our greatest piece of advice goes with the famous Colombian saying:
¡NO DES PAPAYA!
What does "Dar papaya" mean?
It means "To give papaya (fruit)"…. huh? What does it have to do with security?
Well, we don't know where this saying comes from, but when Colombians say "No des Papaya" (Don't give papaya), it means:
Do not put yourself in a situation where others can take advantage of you.
This expression could be used in a simple, friendly situation and to tell people to watch out for their belongings and take care of themself.
In Colombia, we joke that the 11th commandment is "No dar papaya".
So, "No des papaya" means:
Don't use your phone, tablet, or camera in public transportation or on the streets unless it's important or necessary.
Carry your backpack/handbag in front of you, rather than at your side or on your back.
Always mind your belongings, and have them close to you. Especially in public transportation.
Don't take taxis on the street; use Uber or any of the TaxiApp (Tapsi, Easy Taxi) instead
Don't carry large sums of money in cash with you.
Don't give money to people on the streets.
Don't walk alone on empty and dark streets, parks, and bridges at night.
If you pay attention to these things, without getting paranoid but rather careful. You won't have any issues.
Trust your intuition but always ask locals!
4. Transportation and mobility
Apart from the security issue, the second biggest drawback to living in Bogota is getting around. Transportation and mobility are other aspects we are not proud of.
Unfortunately, traffic congestion in Bogotá is among the world's worst. That is why our first advice in this article was to choose your neighborhood well. If you do so, you will lessen your stress of getting around the city -most of the time-.
Some extra advice for you:
Once you arrive in Bogota, buy the Transmilenio card.
Download these Apps: Uber, Didi, Tapsi, Easy Taxi, and Transmilenio App.
Ordering deliveries will also help save a lot of time! Download Ubereats and Rappi.
Walk or use your bicycle whenever possible.
Try to avoid going out during peak hours. If you have a meeting close to peak hours, try to get to the area in advance, get a coffee nearby, and save yourself some stress.
Leave your home with enough time in case there is any delay due to traffic issues.
5. Learn Colombian Spanish
Once you move to Bogota, you will notice that we use many slang and popular expressions in informal gatherings. They are fun and authentic!
You will enjoy learning them while visiting Colombia, and you definitely will make more friends when you embrace our culture and language.
Once you do, you will understand why people fall in love with Colombia and its people!
As soon as you arrive in Bogota, make sure you join our Spanish classes for a week or two. Or, if you have more time, join us for a more extended period!
Speaking Spanish will make your experience in Colombia 100% better!
Check out this post about how is learning Spanish with us and follow our Social Media; it will give you a glimpse of how fun it is!
6. Enjoy Bogota's cultural offer
Bogota is a place where you can find everything—not kidding!
Bogota is home to people from all around the country and worldwide, which brings you an endless offer and variety of food, music, and art.
For foodies, this is paradise! You will find all kinds of food. From Colombian to international, from street and world-class food. And, let's not talk about coffee…. (*Sigh in Spanish*!)
You will have a blast if you like music, dancing, concerts, and nightlife! The city offers many activities for all tastes, ages, and budgets.
And if you like art… Bogota will keep you busy. All year long, there are activities, from street performances to world-class concerts; from small local theater plays to the worldwide known Iberoamerican Theater Festival; from independent galleries to the Gold Museum and the international art exhibition ARTBO…
If you want to learn more about Colombia, Bogota and the Spanish language we recommend you to read our weekly articles on LMTS Blog. And if you are ready to start a new adventure and need some guidance in learning and improving the language, come learn Spanish with us!
Hope to see you soon!
https://learnmorethanspanish.com/wp-content/uploads/2022/05/advice-moving-bogota.jpg
600
800
Jennifer Gonzalez
https://learnmorethanspanish.com/wp-content/uploads/2018/11/spanish-school-colombia-logo.png
Jennifer Gonzalez
2022-04-26 13:56:59
2022-05-18 14:52:06
Moving to Bogota? Here's what you need to know