What is the cost of learning Spanish in Bogota in 2023?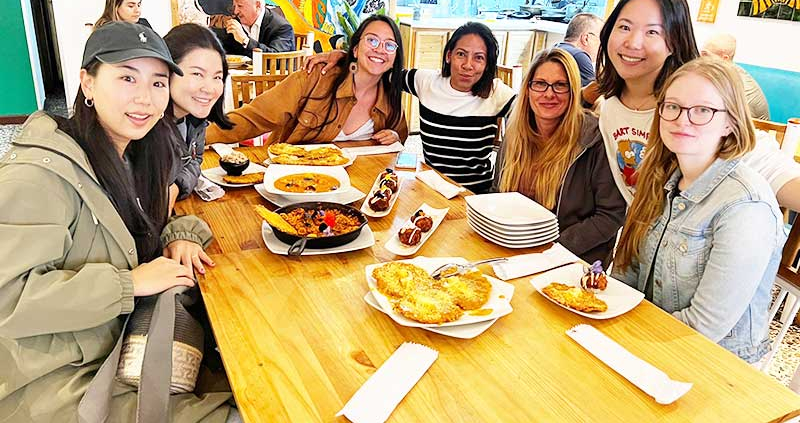 Note: This is the updated version 2023 of the article "Cost of Learning Spanish in Bogota".
If you are considering Colombia as your destination to learn Spanish, you might be wondering what the best place to learn is and the costs involved. Don't you?
Colombia is becoming a popular destination for travel and learning Spanish; why?
Colombia has it all! People find Colombia the perfect place for unforgettable holidays, making long-lasting friends, and learning Spanish easily.
Bogota, Medellin, Cali, and Cartagena are the most visited cities for new Spanish learners. All of them offer unique experiences!
Advice: We highly recommend starting your Spanish learning journey in Bogota for several reasons:
The accent
Although people in Bogota do have a particular accent, it is clean and easy to understand. Contrary to other regions in Colombia, people in Bogota usually speak slowly and pronounce all letters, two important characteristics when it comes to learning a new language.
Multiculturalism
As the country's capital city, Bogota is where you can find people, food, and music from all the regions of Colombia. And when we say all, it's all! Bogota is the country's beating heart. It is said that it is the melting pot of Colombia.
Affordability
Our currency is currently very weak… a disadvantage for us but a great advantage for you! You can enjoy a cosmopolitan life full of cultural activities, world-class restaurants, and attractive accommodation options at a great price.
You will even have some spare money to travel around the country!
In Bogota, there are a bunch of options to learn Spanish. You can choose from
Spanish for foreigners at Bogota's universities,
private tutors.
There is no right or wrong choice. It all depends on how much time you would like to invest and how much time you have to stay in the city. Of course, it also depends on your budget and your preferences.
Read our article "How can I study Spanish in Bogota?" to briefly summarize each option's advantages and disadvantages.
How much does it cost to learn Spanish In Bogota?
Let's start with the conversion rate from Colombian Pesos (COP) to US dollars:
1 USD = COP 4,777 as of February 27, 2023.
By Latin American standards, Bogotá is a moderately expensive city. However, unlike any North American or European city, Bogota is very affordable.
The average monthly cost for a single person is about USD 500 – $1000. This excludes the Spanish class fees (find our price list at the end of this article).
Find below a rough estimate (USD) of living expenses for somebody in a neighborhood like Chapinero, Bogota, near our Spanish school.
1. Accommodation
The most substantial portion of your monthly budget will go towards rent.
Apartments in Bogotá have an extensive range of prices. You can find a one-bedroom apartment for about USD 300 per month to a luxury two-bedroom apartment for about USD 1000.
Most apartments do not include utilities and internet, so you must add them to your monthly budget. That would be less than USD 100 per month.
If you plan to stay longer than three months, renting your apartment or sharing one with friends would be the best option.
And, if you are planning to stay only for a week or two, you could stay in a hostel, hotel, or Airbnb. Rates vary from USD 20 per night in a dorm to USD 60 per night in a comfortable private room.
Note: Those students registered at Learn More Than Spanish have a special discount in the widely known hostel chain, Selina. If you want to get a deal, write us a message!
Summarizing accommodation prices…
One-bedroom apartment: $300 – $500 per month
Utilities: USD 100 per month
Private bedroom in a shared apartment: USD 200 per month
Utilities in a shared apartment: USD 40 per month
A dorm bed in a hostel: USD 20 per night
Private room in a hotel: USD 30-40 per night
Airbnb one-bedroom apartment USD40-60 per night
2. Transport
Keep in mind that Bogota is a big city, a huge city! About nine million people are living in Bogota, so you can imagine how traffic and distances might be.
To give an idea…in Bogota, a 15-30 min drive is considered "near"; a 30-60 min drive is considered "moderate"; and a 60+ min drive is considered "far."
Thus, we highly recommend you find accommodation close to the Spanish school of your choice. It will not only help you save some money, but it will save you a lot of time in traffic!
The average costs to move around Bogota are
Local city bus or TransMilenio: USD 0.60c
15 min – 30 min Taxi or Uber ride: USD 4
More than 1-hour Taxi or Uber ride: USD 8- 10
And to give an idea, traveling costs for visiting areas outside Bogota are:
Bus trip to main cities like Medellin, Cali or Bucaramanga (8-10 hours) – USD 20
Bus trip to closer town like Villa de Leyva or Ibague (3-5 hours) – USD 8
Round-trip flights to the Caribbean coast – USD 100
3- Food & Drinks
Eating in Bogota is such an experience!
Bogota is known as a gastronomical city. You can find various restaurants, from local and affordable ones to world-class ones. There is always something for all kinds of budgets.
Here are the average costs for food and drinks:
USD 50 – 150 per month for groceries.
A "menú del día" (lunch menu), which is usually a traditional Colombian dish that comes with soup, juice, and sometimes even dessert – USD 4
Street food – USD 1- 2
Main course meal at a mid-level restaurant – USD 10
Main course meal at a high-end restaurant – USD 25
Craft beer in a Pub – USD 3
Cocktail on a trendy rooftop– USD 10-15
What are the average prices of Spanish programs in Bogota?
If you want to learn Spanish, you can join our Learn More Than Spanish classes. The price range for group and private lessons is as follows:
| | | |
| --- | --- | --- |
| Type of Class | Price Range per hour | Price Range per Week |
| Group Lessons | USD 12 – 16 | USD 160 – 240 |
| Private Lessons | USD 18 | Depends on the intensity |
We hope this article has been helpful to you. If you want to take your Spanish to the next level, drop us a line, and we will send you all information!
You can also visit our website and social media channels to see what it is like learning Spanish with us!
Also, remember to read our monthly blog to learn more about the Spanish language and Colombian culture!
Hope to see you soon in Bogota!

https://learnmorethanspanish.com/wp-content/uploads/2023/02/cost-learning-spanish-2023.jpg
600
800
Jennifer Gonzalez
https://learnmorethanspanish.com/wp-content/uploads/2018/11/spanish-school-colombia-logo.png
Jennifer Gonzalez
2023-02-28 21:18:51
2023-02-28 21:18:51
What is the cost of learning Spanish in Bogota in 2023?